How Monitoring Sensors Can Prevent Network Outages
Have you experienced severe damage to your IT equipment? Have you lost outrageous sums of money from repair bills, network downtime, and angry customers taking their business elsewhere? Do you believe you could have prevented all of this damage if you had just known about it in time?
You're not alone. Server rooms, data centers, and remote sites are prone to environmental emergencies - and most will regularly experience common environmental threats. Don't be one of the unfortunate ones who suffer - protect your valuable equipment with the right network monitoring sensors.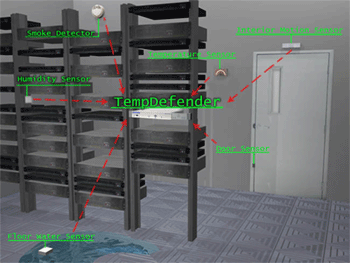 The TempDefender IT is used in this diagram to monitor temperature, humidity, water, smoke, and motion. Measuing these variables is critical to protecting your valuable gear.
Many of these network outages are preventable. The temperature of your server room just doesn't spike 50 degrees and instantly shut down your equipment, nor does water just flood into your data center like a roaring river. These things happen gradually. This means that you can use monitoring sensors that will measure and monitor these conditions, and alert you when they start reaching dangerous levels.
You can't just choose any monitoring system. Too many systems lack the necessary features to get the job done. The last thing you need is a false sense of security - you put in a limited monitoring system and think you're protected, until it hits you while you're not expecting it.
What features do I absolutely need in a monitoring system?
Having the right features is the only way to protect from environmental conditions causing crippling network outages. Some key features to look for:
Live analog monitoring

- Basic discrete sensors can only tell you when the temperature has risen beyond a certain point. That's why analog monitoring sensors are so critical - they can provide you with precise readings of environmental conditions (temperature, humidity, etc). A severe overheating emergency in your server room is not the time to receive a vague alert leaving you guessing about what to do next. Analog sensors don't leave you in the dark - they provide you with detailed alerts so you always know what to do next.

24/7 alert versatility

- Your monitoring system should have the flexibility to alert you wherever you are at any time of the day. You need more than just a system that sends internal alerts to a master station. Network emergencies don't keep standard business hours and neither should your monitoring system. A good system will be able to alert you in multiple ways (pages, emails, SMS text messages, voice alerts, etc), so you're never in the dark - even if you're sound asleep at 3am.

Graphical interface

- Setting up and monitoring your alarms doesn't need to be so confusing it gives you a headache. Many systems feature hardware that's difficult to setup and needlessly complicated to configure. You don't have to deal with the hassle. Your monitoring system should provide easy plug 'n' play setup design and an easy-to-use graphical web interface. Managing your alarms should be easy, and you should be able to do it from any computer with any web browser.

Reliable hardware

- The last piece of equipment to fail should be your monitoring system. Your network won't really be secure if you're using hardware that isn't built to last. Don't settle for anything less than industrial-grade hardware. You can't afford to leave your network's security in the hands of cheaply built equipment that's not ready for the job.

7x24 tech support

- You should never be alone when monitoring your network. A good monitoring system will come with quality tech support available 24 hours a day, 7 days a week. You never know when you'll need assistance maintaining your network, so having the extra support can make all the difference.
You can't afford to settle for a monitoring system that offers anything less than these must-have features.
Where can I find a system that's up for the challenge?
Imagine just how much easier your job would be with a good monitoring system. You can have the peace of mind knowing a crippling network emergency won't be happening on your watch. This level of satisfaction doesn't have to be a hassle - and it certainly doesn't have to be expensive.

TempDefender IT back panel.
You want the best possible solution, so I recommend the TempDefender IT. This compact, yet powerful, device is easily rack-mounted and provides all of the essential features. This device is built to last in a metal chassis that's powder-coated to prevent rust. This device supports all of the monitoring sensors you need to measure all of the important environmental conditions that impact your equipment. Best of all, this device comes with a 30 day risk-free guarantee.
"All the alarm monitoring systems I make are backed by my no-risk, money-back guarantee. If you buy my equipment and you're not satisfied for any reason during the first 30 days, simply return it for a full refund. If my product doesn't solve your problem, I don't want you to have it."
- Bob Berry, CEO, DPS Telecom
Don't leave yourself vulnerable any longer - call (1-800-693-0351) or email (sales@dpstele.com) the network monitoring specialists at DPS Telecom. These experts can answer your questions, provide you with more information, or give you a free Return-on-Investment (ROI) analysis - so you can see how much you can save.