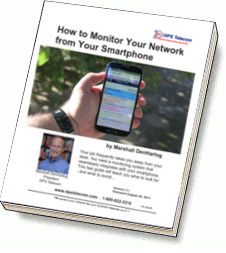 How Do You Make Your Network Monitoring Systems Work with Your Smartphone?
Whether your technicians are at a site or on the road, you need to make sure they have the information they need to maintain and repair your network. They need a link to the NOC. Laptops can be clunky, slow, and expensive, and direct voice communications can easily breakdown. What you need is a way to integrate NOC functionality using SMS technology with your technicians' smartphones, so they can access the NOC on the go.
This White Paper offers a number of tips to help make your network monitoring systems more mobile friendly (by using a wireless SMS receiver to bring alarms into your network). It won't tell you what specific devices to buy. Every network is different, and there are no one-size-fits-all solutions. This White Paper will, however provide you with strategies to help you bring NOC functionality to your smartphone - to increase efficiency and reduce network problems caused by communication problems between the NOC and technicians in the field.
Remember that we'll NEVER sell your email address to anybody, and that's a promise! We will also send you our informative eMagazine.