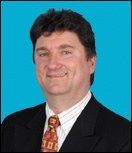 Bob Berry, Chief Executive Officer
at DPS Telecom
This Product Showcase is a guide to tools - the very best network alarm monitoring solutions I can offer you. These solutions are designed to cut your workload and slash your costs.
DPS Telecom solutions are designed to let you see every device in your network and detect problems happening anywhere. With DPS tech, you don't need to send out techs just to check on things. You can find and eliminate problems before they cause equipment damage, and you can manage your network from your desktop, saving your time for important work. Our priority is to make sure you have less overtime, fewer repairs, fewer costs, and more time to focus on other things. All of that on top of having higher revenue and happy customers.
This Product Showcase for 2005 presents our featured alarm monitoring solutions. (For a complete list of all DPS Telecom products, visit our website at www.dpstelecom.com.)
Cheers!


P.S. One more thing: everything in this Product Showcase is backed by my 30-day, no-risk, 100% money-back guarantee. If you're dissatisfied with a DPS product for any reason, simply return it for a full refund.