Monitoring Microwave Sites:
Mediate Your Microwave Radios to T/Mon...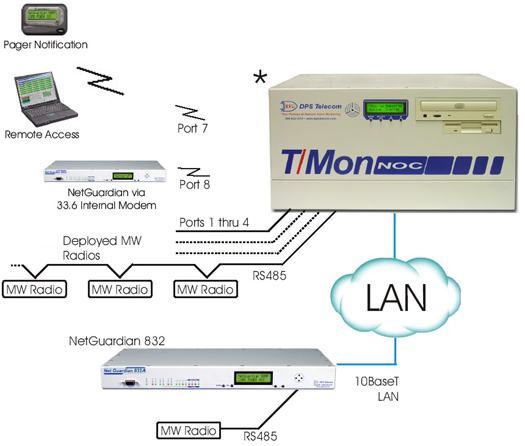 Monitor Your Microwave Sites By Mediating Your Microwave Radios to T/Mon...
Equipment Used:
P4 Software Module
Microwave Radios
How This Application Works:
The P4 Protocol Software Module will allow you to collect alarms and provide remote login functions for your microwave radios. The overall goal of this application is to provide you with a single point of monitoring, the T/Mon NOC Master Station. Preloaded with the P4 Software Module, it will be able to receive alarms over RS485. This application features NetGuardian RTUs that have the ability to provide alarm monitoring as well as act as a terminal server for the microwave radios, thus giving those very same radios the ability to report over IP to the T/Mon NOC. In addition, the NetGuardians will provide an improved view of the remote sites and report those alarms the T/Mon NOC over IP, RS485 or even a plain old telephone (POTS) line in case of LAN failure.
With the T/Mon NOC, you can begin using Pager alerts and escalation. T/Mon NOC can automatically send detailed alarm notifications via pager, cell phone, PDA or e e-mail, so the right information is put directly in your hands, not locked up in a NOC console. Escalation notifications to supervisors ensure alarm acknowledgment and problem resolution.
Filter nuisance alarms to save operational time and focus efforts on serious emergencies. T/Mon NOC filters out nuisance alarms, self self-correcting alarms, and oscillating conditions, ensuring staff response to serious network threats. Correlate alarms for root cause analysis. Finding the underlying cause between apparently unconnected alarms can take hours of patient detective work. T/Mon NOC simplifies root cause analysis by correlating alarms with user user-defined derived alarm formulas. Derived alarms can include date/time variables and input from dozens of alarms, so you can capture any repeatable combination of events in a single alarm.