Monitor Badger Gear and More via T1 and RS232 with T/Mon NOC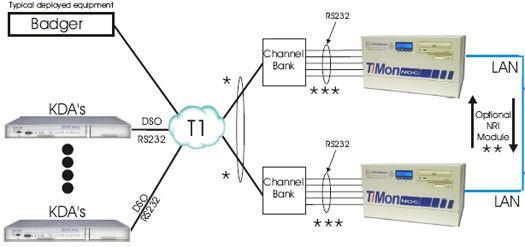 Monitor Badger Gear and More via T1 and RS232 with T/Mon NOC
Equipment Used:
Channel Banks
Badger Gear
T1 WAN
RS-232 Serial Dedicated Circuits
How This Application Works:
This solution includes the contemporary T/Mon NOC. You can use the Badger 481 Interrogator Software Module within T/Mon to collect and interpret alarms from your Badger remotes. Alarms will be collected over T1 WAN using RS232 serial and channel banks.
Also included here are RS232 docking modules for each T/Mon NOC. Please note that if you wish you may add interface cartridges at anytime to accommodate your T/Mon NOC.
You have the option of adding NRI Synchronization Module to both T/Mon systems. This will result in a dual redundant configuration (HOT Standby) mode which will allow both systems to synchronize the data between the two units. In the case of a failure the other system will resume monitoring.
One of the most beneficial qualities of the T/Mon NOC is its dramatic increase in its processor speed, which is at the very least, 4 times faster than previous versions. This means that screens respond faster and the system can handle larger loads. Another key improvement is the way the T/Mon NOC communications interfaces work. The old, inside the unit, "Docking Modules" of the T/Mon XM have evolved into easy to access "Interface Cartridges" that are located on rear of the unit. The T/Mon NOC maintains a suite of interface cartridges for your various electrical interfaces, but it also has variants with different types of connection termination.
The interface cartridges are pin for pin compatible with existing DPS master platforms.
Monitoring your Badger remotes is critical, and T/Mon will get the job done. Alarms will come in over T1 WAN using RS232 serial (plus channel banks).
Another part of this master station is the 2 line LCD display providing additional useful information such as Firmware Version, system time, and IP address (if you provision it for that). One other notable departure from the IAM-5 design is that it uses the same hardware security device that is used in the T/Mon Workstation.
Last, but not least, the newly introduced backup hard drive and mirroring function allows your T/Mon NOC to keep monitoring in cases of a single hard drive failure. Upon such a failure, you will be notified, and the system will quickly and automatically reconstruct the data on the replacement drive once installed.
The T/Mon NOC will be compatible with several accessories that have been successfully tested with the system. One of which is a flat screen display (powered from the T/Mon NOC) and keyboard to make local access convenient.