"These Senior Techs Upgraded Their Legacy Gear and Saw Their Efficiency Skyrocket.
"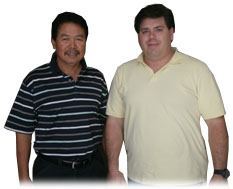 Chuck Thomas and Roberto Deleon solved their nagging legacy problems.
Chuck Thomas and Roberto Deleon are Senior Communications Technicians at a major electrical utility company that has been delivering electrical power for over 100 years. The company generates power from a diverse mix of resources, including hydropower, coal and natural gas. Serving more than 1.5 million people, their service territory covers more than 4,000 square miles.
Existing Monitoring Solution Wasn't Getting the Job Done
The company had been using incompatible legacy equipment for their alarm monitoring, but they were searching for a more effective system. They needed a solution that was capable of monitoring all their SNMP alarms, analogs, and proprietary protocols. Using legacy equipment was not feasible, as different alarms were captured by different systems.
Legacy System Caused Unnecessary Dispatch Confusion These disjointed systems were causing a number of problems for the technicians. Inadequate pager notification was an especially big problem at the company. Their legacy system paged their full list of techs whenever an alarm was triggered, causing a lot of unnecessary dispatch confusion. "We had to page 5 technicians and whoever was available was assigned the task," said Deleon. "This wasted valuable time and manpower."
"We have now dropped all of our proprietary legacy systems"
Find out how you can do it too...
T/Mon Deployment Captures Array of Alarms on one System To find a modern monitoring solution, the company contacted DPS Telecom. After researching their options, they deployed a T/Mon alarm solution. This advanced new system was a breath of fresh air to the company's technicians. T/Mon's ability to capture all alarms on one system, including PBX and ASCII, was greatly appreciated by the tech staff. "It was nice to see everything together in one place," said Thomas. "We have now dropped all of our proprietary legacy systems."
The Right Alarms for the Right People One of T/Mon's strongest features is its ability to page intelligently, sending the right alarms to the right people. "Now we have specific alarms for specific people," Deleon said.
"We are now able to monitor our whole network from one screen"
Find Out how you can do it too...
T/Mon's ability to support pager and email alarm notifications reduced windshield time for the technicians. Using T/Mon's descriptive alarm notifications, Deleon is able to make the right dispatch decisions with full information.
Full-featured Monitoring System That's Equipped for the Future
T/Mon's integrated multi-protocol support was very much appreciated by both Thomas and Deleon. "We are now able to monitor our whole network from one screen," Thomas said. After deploying T/Mon, both senior techs understood the practicality and feasibility of a system that monitored their entire infrastructure, regardless of manufacturer or protocol. As a result, they now have a full-featured monitoring system that will grow with their future needs, and they achieved all of this without a forklift swapout of their legacy remotes.
Comprehensive Factory Training Ensures a Smooth Legacy Migration
Deleon and Thomas attended a regularly scheduled DPS Factory Training event to learn how to use their T/Mon most effectively, including ASCII alarm parsing. "The DPS team was more than willing to help with any questions we had," said Deleon. "They were really great."
Thomas especially appreciated DPS's hands-on training and their experienced instructors. "Bringing all our systems onto one screen will allow us to make the most informed decisions," said Thomas. "DPS really provided us with an insight into how to make the most of T/Mon."