Your IPswitch can Monitor NetDog remotes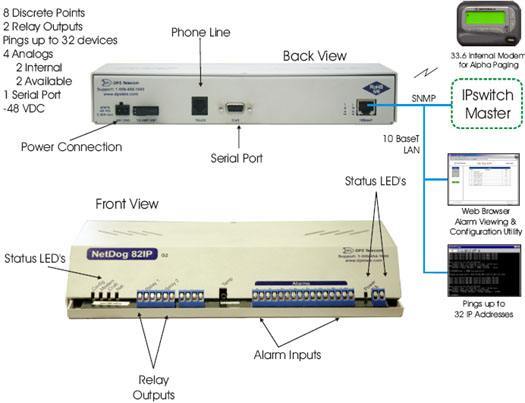 Your IPswitch can Monitor NetDog remotes
Equipment Used:
How This Application Works:
The NetDog 82IP G2 is an excellent remote, however I have included the NetGuardian 216 as a second option for you. Both of these RTU's will be able to collect your environmental discretes (contact closures) and report those alarms via SNMP over LAN to your IPswitch Master Station.
Option #1 features the NetDog 82IP. It comes equipped with 8 discretes, 4 analogs (2 analogs used for internal purposes, 2 analogs available), 2 relays, a built in 33.6 modem, a built in web browser and alarm termination ports on the front of the unit.
Option #2 features our smallest NetGuardian remote, the NetGuardian 216. It comes equipped with 16 discretes, 2 analogs and 2 controls. Alarm termination will be via its amphenol connector on the back of the unit.
The new NetDog 82IP (G2) has a capacity of 8 discrete inputs, 4 analogs and 2 control relays. The NetDog 82IP's 8 discrete alarm inputs can accept any contact closure type of event, such as door switches, fuse alarms, major and minor equipment alarms, high temperature alarms and tower light monitors.
Two of the NetDog 82IP analog inputs are designed for an external temperature and battery sensors, and the other two are available for measuring such critical events as temperature and voltage. Each of the alarms can be assigned qualification times so that transient and nuisance alarms can be filtered out.
The 2 control relay outputs can be used for a number of functions including operating standby equipment, door locks or emergency lighting. The NetDog 82IP's built in 33.6 modem will not only dial to a pager directly to report a fault or alarm, but once alerted, the staff can dial into the NetDog 82IP using the telnet session and control up to 2 different pieces of equipment i.e. back up generator, turning lights on etc.
The NetDog 82IP is easy to install, with connectors for all ports and captive screw-lug terminals for alarm and control wiring. The unit mounts on any vertical flat surface, or it can be desktop mounted. If needed, we also carry mounting panels for equipment rack mounting.
The built in 33.6 modem is a great way to get dial up access to this equipment should your primary transport fail.
The NetDog 82IP is programmed using any generic TTY terminal. The easy-to-use menus enable you to quickly set up your Net Dog with your pager number, point descriptions and additional options. Programming can also be done using your LAN or via dial-up modem. The entire configuration is saved on the Net Dog where it remains secure through power outages in non-volatile RAM.
The NetGuardian 216 offers an easy, cost-effective way to monitor your small sites. The NetGuardian 216 comes equipped with 16 discrete alarm inputs, 2 analog alarm inputs, and 2 control relay outputs. The discrete alarms are items such as door alarms, equipment alarms and other ON/OFF events. The discrete alarms are "software reversible" to support both N/O and N/C alarm wiring. The NetGuardian 216's 2 analog inputs can be used for measuring such critical events as temperature, voltage and battery. We also have a line of sensors, which can be used with the NetGuardian 216 and can be included upon your request.
The NetGuardian 216 will provide complete coverage and control of your smaller remote sites with easy installation and configuration. It can report alarms via SNMP to your IPswitch Master Station. The reach-through serial port on the NG216 provides Vanus Inc the ability to access a remote serial device via LAN (a.k.a. terminal server). The NetGuardian 216 also features a real-time clock, so the NetGuardian 216 clock maintains the current date and time during a power failure. Each time an alarm occurs, a time-date stamp will be included in the SNMP/DCPx trap. Also, the NetGuardian 216 comes a with a free, easy to use, Windows based (T/NG216) utility for configuration, monitoring and diagnostic functions.