The Importance of Tank Monitoring
For people who work with storage units designed to hold liquids, gasses, and various other items, a necessary part of their operations is the ability to accurately determine the volume they are currently holding.
Tank monitoring is the practice of keeping an eye, so to speak, on the contents of a storage tank. This is similar to how various other SCADA systems work. Utilizing a system of devices designed to measure the levels of the contents linked to computers to collect and decypher the information, you are able to constantly monitor the changing levels, or to determine if they have moved outside of operation parameters.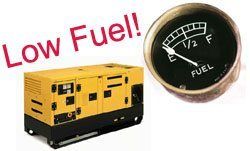 When a generator turns on during a power-outage, you would expect it to work properly, but what happens if it sprung a slow leak that over time drained the entire tank? Most people would say they had a technician checking it, but how easy is it to overlook that step if there are no alarms to alert you to the fact that you are out of gas? You don't want to find out after-the-fact that your equipment was not up to full capabilities.
For people using irrigation control systems, it is necessary to tell how much water is in your reserves so you can tell when it needs to be refilled. Through effective tank monitoring solutions pumps can be turned on, workers automatically informed of proceedures to take, or even auxillary equipment turned off to prevent damage or waste. These tasks can be started remotely or even on-site with an alert through a signal light or alarm sound.
Without an effective way to monitor the contents of your tanks, you may as well be a fish out of water when it comes to being able to operate your equipment.
No other network on the planet is exactly like yours...
For that reason, you need a monitoring system that's the right fit for you.
We manufacture nearly 75 product variations per year that are customized to our clients' exact spec, all while providing training, tech support, and upgrade availability.
Send us a quick online message about what you're trying to accomplish. We'll give you a call and work with you to design a perfect-fit solution for your network.
Click here for more information.