Monitor Calix, CS1500, and SNMP Devices via LAN using the T/Mon NOC Master Station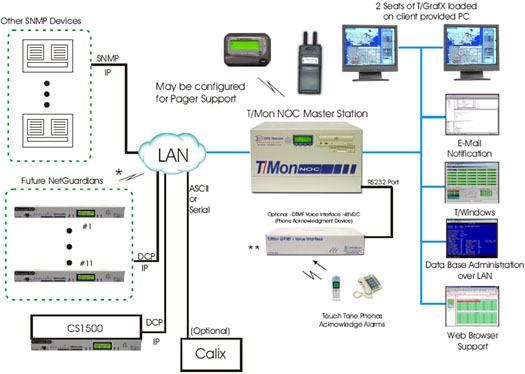 Monitor Calix, CS1500, and SNMP Devices via LAN using the T/Mon NOC Master Station
Equipment Used:
T/Mon NOC
Calix Equipment
CS1500
SNMP Devices
How This Application Works:
With this solution, you will not only match your previous DMS monitoring capabilities, but improve upon them with our real-time and multi-protocol integration solution. You can immediately take advantage of our DPS Master station (T/Mon NOC).
The T/Mon NOC has been specifically designed and widely deployed in Independent Telephone Companies, providing them high end monitoring capabilities normally reserved for larger clients. The T/Mon NOC features a robust after hours alarm notification system which is a must-have for any company that does not have a 24/7 manned NOC center.
This solution features our T/Mon NOC as a central alarm collection unit. It will have the ability to receive alarms from existing NetGuardian RTUs, but will also be preloaded with the SNMP software module to enable alarm notification from your existing SNMP based equipment (like AFC).
Furthermore, an additional ASCII Software Module may be added to allow ASCII reporting over IP (and serial) for your existing Calix equipment. The results will be 24/7 alarm notification to your technical support team with escalation tree, data-basing, and numerous other advantages.
This solution also features NetGuardian G4 remotes for environmental alarm monitoring of your remote sites along with a single recommended spare.