"Before You Invest In Your Next SNMP Remote, Be Sure It Can Do These 12 Things..."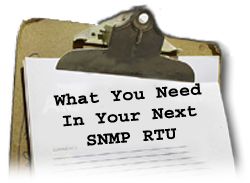 Get The Most From Your SNMP
RTU...
Are you searching for new, more advanced SNMP remotes? Is it time for an upgrade, but you're not sure what to look for? Alarm-monitoring technology is constantly changing. Maybe you had to rush your last remote purchase because of a time crunch, and now you're wishing you could go back and find a better remote.
Imagine how much easier your search would be if you knew the 10 key benefits of top-notch SNMP remotes. What if there was a list of everything you must look for to get the most out of your next SNMP remote? You be able to make the right decisions - and get more value from your budget.
This List Teaches You Exactly What to Look For in an SNMP Remote...
This list gives you the know-how to make an educated decision for buying your next SNMP remote. When you use it to select your next SNMP remote, you'll avoid making an expensive mistake.
The 10 Most Important Benefits To Look For In Your Next SNMP Remote...
Multiple Trap Destinations

- Any SNMP remote can report to an SNMP manager, but what if you want to send traps to a pair of managers simultaneously? You could send traps to your SNMP manager and your desktop PC. You'd get local visibility of your alarms at your desk, and your SNMP manager would get the alarms it needs to display your complete network status.

This is critical for disaster recovery implementation. If the site where your master is located experiences a flood or other disaster, alarms are automatically sent to an alternate destination.

Ability to Support Multiple Versions of SNMP

- Your RTU should never decide what version of SNMP you use. Any remote you consider should support SNMPv1, SNMPv2c, and the new SNMPv3. This allows you to make smooth transitions between versions. This will keep you prepared for any future upgrades for your SNMP master.

Web Browsing Ability

- A remote with a web interface will provide you with the access you and your technicians need without the hassle of granting NOC access to every user. Direct access to your individual sites is fast and simple through an RTU web interface. This makes it easy for your techs to login remotely and confirm alarm. This is helpful if your techs only need access to the equipment, and not the entire management system.

Alarm Qualification Capability

- Is your monitoring filled with distracting "nuisance" alarms that can make real problems hard to see? You can dramatically reduce these nuisance alarms with Alarm Qualification Times.

Imagine a situation where an alarm point commonly sets and clears in just a few seconds. By setting a 30-second Alarm Qualification Time, you're instructing your RTU not to report the alarm until it has been standing for at least 30 seconds. This will reduce the workload of your monitoring staff, as well as your SNMP manager.
If you're plagued by persistent, meaningless alarms from frequently active points, you need to find a remote that can distinguish your important alarms from annoying nuisances. Among all those nuisance alarms, you run the risk of missing an important alarm and delaying a reposnse.

Control Relays

- Control relays allow you to remotely switch equipment on and off. They are simply a switch mechanism that can be activated remotely, no matter where you are located. This can be used for anything from light switches to generators to door locks and more. Your RTU should support include both momentary operation, similar to pushing a button, and latched operation, like flipping a switch.

Normally Open/Closed Control Relays

- You'll also want to make sure that your RTU supports both Normally Open (N/O) and Normally Closed (N/C) control relays. That way, if your power fails, the relays will return to the correct position when it is restored.

Analogs

- Not every alarm condition can be represented by a digital "on" and "off". Analogs provide you with the ability to monitor environmental factors that affect your operations. These inputs can measure and answer the question "how much?". Your RTU should provide several of these inputs. It should issue a Get response, and make sure they have trap thresholds to keep users in the loop.

Redundant A/B Power

- If your revenue-generating equipment is important enough to require a redundant power source, you should look for an RTU with dual "A" and "B" power inputs. This will keep your critical alarming running during a power failure when you need it most.

Temperature Sensors

- Your RTU should support a variety of analog temperature sensors. At minimum, that includes an internal sensor for general site temperature and a long-lead probe for measuring the temperature of specific areas and equipment.

Telnet Support

- A Telnet connection is a reliable way to remotely access and provision your RTU. It also allows for reaching through to devices that do not have a LAN connection. Your technicians can do it right from their desks with simple terminal software (HyperTerminal, etc.)

Free lifetime firmware upgrades

- Your RTU should provide firmware upgrades for the life of the product. Our entire line RTUs also include Windows-based utility for off-site editing and remote provisioning via LAN.

Free 2-Year Hardware Warranty

- Purchasing an RTU from DPS includes a hardware warranty and a risk-free, 30 day money-back guarantee.
To learn about RTUs that meet these important selection criteria, call DPS Telecom today at 1-800-693-0351.
.
To receive a price quote or ROI analysis...
Call 1-800-693-0351