Moniter Tower Lights via Cell Modem & DNP3 to T/Mon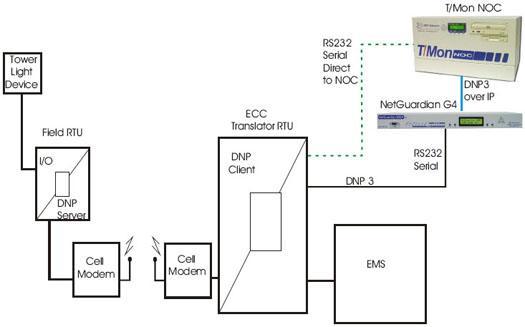 Moniter Tower Lights via Cell Modem & DNP3 to T/Mon
Equipment Used:
Tower Light Device
DNP Server
Cell Modems
DNP Client
EMS
DNP3 over RS232 Serial
How This Application Works:

The T/Mon Master Station will be able to receive the DNP3 protocol over a standard serial connection (native to the ECC Translator RTU). The software will be preloaded onto the master station and will require a free RS232 port. However, as an alternative we have provided a NetGuardian G4.
The NetGuardian G4 will be able to use its serial connections (in the form of a terminal server) that will provide the ability to send DNP3 over IP via the NetGuardian to the T/Mon master station. In addition, the NetGuardian will able to provide local alarm visibility. Please reference the NetGuardian G4 technical overview for further details.
Once the DNP3 module has been loaded onto the master station, DPS Telecom will be able to provide phone support for the final adjustment.
The NetGuardian offers a Web Browser interface for easy and convenient centralized alarm management and unit configuration via Web Browser that can run on any platform or operation system. This means if you get notified of an alarm away form your normal workstation you can go to the nearest computer (with internet access) and log onto the NetGuardian. The user friendly interface allows complete access to all the functions of the unit and enables the user to quickly set up alarm point descriptions, view alarm status, issue controls, and configure paging information, as well as additional options.