Your sites and facilities house important mission-critical gear which require advanced controls to maintain comfortable temperature and humidity levels while staying efficient and reliable. Because of that, multiple companies from different industries have direct digital control (DDC) systems.
DDC systems allow you to have precise control over your HVAC units, which provides you with the ability to configure different temperature zones, schedule and automate system operation, and monitor performance over time.
As remote monitoring systems manufacturer, we delivered multiple solutions to many clients that integrate DDC systems with Supervisory Control and Data Acquisition (SCADA) systems. This way, monitoring and controlling your various applications become possible.
If your sites are not equipped with a direct digital control system, keep in mind that this can be a worthwhile investment. So, let's take a look at what exactly these systems are.
How a DDC System Works
Direct digital control system can also be referred to as building automation system, building management system, and energy management system.
DDC refers to the automated control of a process by computers and microprocessors with sensors.
Direct digital control systems give building owners a higher level of control over their mechanical and electrical systems. The most modern systems can also offer the trending analysis feature. This can be used to increase efficiency and to pinpoint issues with your equipment.
DDC systems transmit information over the internet for remote monitoring and control capabilities.
Components of DDC System
DDC systems have a central master station that will give you information about your HVAC units or anything else you wish to monitor in one single screen for efficiency. The information will be brought to your master station via sensors that will be deployed at your facility. Once you receive the data, you'll be able to monitor performances, remotely control equipment, and make operational adjustments when necessary.
DDC systems usually allow for a high level of flexibility. Meaning that, although their primary purpose is building automation and systems integration, they also make it possible for your technicians to react to problems that may arise at your sites, troubleshoot issues, and take care of maintenance tasks from a single point that gives the network-wide visibility.
Communication Protocols
Just like in SCADA systems, DDC utilizes proprietary or open communication protocols to transmit data from device to device. Some protocols used in DDC systems include Modbus, BACnet and Lonworks.
Benefits of a Direct Digital Control System
DDC systems offer many advantages for company owners, maintenance technicians, and network managers. An efficient DDC system will:
Allow technicians to maintain maximum efficiency. This means that the DDC will give you real-time information that will allow you to respond to an issue in a timely manner before they become bigger issues.
Allow your technicians to keep precise maintenance schedules based on the actual run time of the equipment.
Help you respond quickly to environmental changes, which will assist you in maintaining a steadier remote site year-around.
Boost energy efficiency through programmable operations.
Keep operating expenses down by making sure that HVAC units are running at the most efficient level at all times.
Reduce workloads by automating basic processes according to a user-defined schedule.
Help with network analysis and diagnostics, while reduces downtime and alerting you when preventative maintenance is necessary.
In a nutshell, direct digital control systems will save you money in the long run while giving your technicians better control and situation awareness over your network.
DDC and SCADA Systems
If you are the technician responsible for the remote site's HVAC system, you are probably primarily concerned about the DDC system and HVAC units. However, many companies don't have many technicians to take care of each part of a remote site, many companies have a small group of people responsible for monitoring multiple sites.
A best practice is then to integrate your DDC with a SCADA system. In reality, even if you have dedicated personnel for each facility, integrating both systems is still a good idea as it will allow you to remotely monitor and control other important equipment.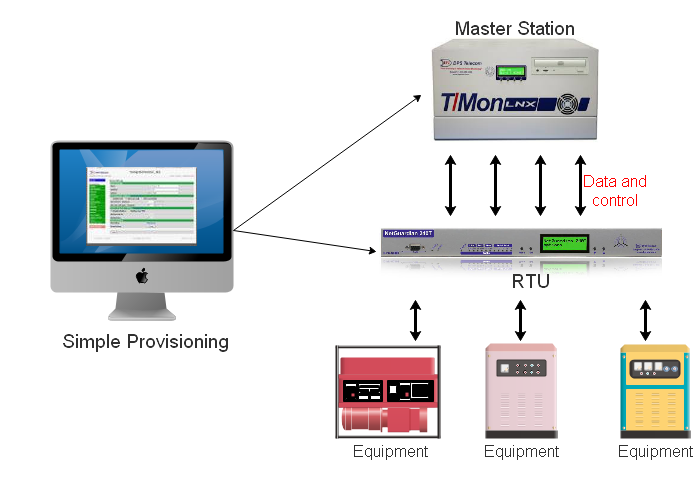 SCADA systems manage any type of equipment. Most commonly, they automate complicated industrial processes where manual monitoring and control by human staff just isn't feasible.
When integrating your DDC system with a SCADA system, you'll not only have sensors but also Remote Telemetry Units (RTUs) as well. These devices will allow your staff to keep an eye on your HVAC system performance in real-time, and when there's a problem RTUs can automatically take action according to user-defined settings.
So, in addition to controlling the HVAC system, the SCADA system will also give other capabilities, such as data gathering, monitoring, and identifying trouble spots for virtually any building function. The following are some examples of what can be monitored with a SCADA system:
Equipment failure
Environmental alarms
Structure beacons
Intrusion alarms
With integrated DDC and SCADA systems, you or your techs can manage any aspect of your remote sites from your own desk - avoiding telecom truck rolls. Some important features that a SCADA system can give you include:
Analog inputs for live monitoring
Derived alarms
Derived controls
Graphical web interface
Detailed alarm descriptions 24x7
Nuisance alarm filtering
Support for multiple protocol and equipment types
Expansion capability
If integration is not an option for you, for any reason, keep in mind that a SCADA system is normally a better choice than DDC controls. When high availability and high performance are your main priorities, a SCADA system is the best direction to take.
SCADA systems are usually designed to meet industrial specifications, while DDC systems are mainly used commercially. So, the bottom line is that, although both DDC and SCADA systems can make decisions based on sensor data, SCADA does it faster and more reliably.
Get a Custom Designed HVAC Controller For Your Network
DDC automation controls combine hardware and software to mainly control facilities. Efficient DDC systems will ultimately help you save money on energy consumption. SCADA does the same, but in a higher level of precision and reliability.
So, if you've decided to go with a SCADA system, then you need a competent device such as the HVAC Controller.

Your HVACs switch on and off around the clock to keep your sites cool. They're such a big power draw that even a small efficiency boost can save a lot of money. That's why smart HVAC control is so easy to justify.
The HVAC Controller is a device that allows you to efficiently control your HVAC systems to run at an optimal level - even automatically making adjustments when needed.
And as a vertical integrated manufacturer, we can actually evaluate what would work best for your needs according to your unique network. This way we can develop custom-designed devices for our clients that will meet their requirements 100% and benefit their operational demands.
So, if you want to know more about the HVAC Controller and it can meet your network needs, just send us a message.