The use of remote monitoring systems to implement cost-effective network management on a large scale is critical for many organizations. If that's your case, then make sure to do your homework and choose an efficient monitoring technology that is capable of protecting your bottom line.
While you're evaluating your possible network monitoring system, it's important to be sure that your potential solution will give you enough visibility in order to help you avoid network outages. This background in network visibility will help you evaluate if a determined system is worth the investment.
What Does Network Visibility Mean?
Simply put, network visibility means having situational awareness over all the different elements within your network. Remote monitoring systems are used by many companies as they provide a bigger picture of what's going on in your network by providing visibility over many different elements, including both software and hardware.
Some of these elements are:
Remote devices and processes
Network performance
Applications
Network traffic
This list, of course, is just a small example of what you can keep an eye on. One important point to keep in mind is that the more in-depth, proactive, and extensive your network visibility solution is, the more control you'll have over your data and the better you can make informed decisions.
How Does Visibility Allow You To Prevent Network Outages?
Most network technicians will agree with me when I say that network outages (even if it affects only part of the network) are the worst possible case scenario. Unfortunately, as with all technology, it's not a matter of if downtime will happen - but when it will happen.
Tacking problems that cause system downtime is done effectively when your network is monitored. With a remote monitoring system, problem areas can be identified in a timely manner and technicians will be able to resolve any issues quickly.
The main purpose of network monitoring systems is to ensure that your remote devices and processes are up and running at all times. These systems are able to detect when the hardware inside a remote network has failed or is failing - significant signs of a network outage. Some of the most common aspects monitored include power input, battery life, and device temperature.
You'll be able to uncover blind spots and reduce the time and effort to necessary to correct problems. And, although different monitoring systems can provide different capabilities, there are some main tasks that most of them provide in order to give you visibility over your network.
These main capabilities are:
1. Automated alerts when issues occur
As I've said previously, network problems will inevitably happen. That's why one of the main objectives of a remote monitoring system is to notify you and your team about any issue that might be happening in your network.
As a matter of fact, the least your remote monitoring system should be able to do is to inform you when a piece of equipment is not working as expected. With this knowledge, you can take steps to correct the situation before an outage happens.
Usually, the alerting process happens after something wrong is noticed. However, most modern monitoring tools allow you to take a proactive approach by allowing you to configure alerts for when an issue is about to happen.
This is possible by setting thresholds for monitored devices or conditions. So if, for example, the temperature inside the facility goes above the set threshold, you'll have the change to respond to this situation and avoid equipment damage.
2. Trend analysis for proactive maintenance
Also, most remote monitoring systems will keep alarm history that can be exported as reports for trend analysis. These reports can help you better chart the data and understand certain situations in your network.
Trend analysis allow you to pinpoint problem areas and work on recurring issues, promoting proactive maintenance of equipment. You won't have to wait until a device malfunctions, instead, you can act on telltale signs of future equipment failures.
This all will give you an idea of your network health and how it is operating as a whole, long-term.
3. Remote Control of equipment
Most modern monitoring systems support control relays to allow for the remote operation of equipment. When an alarm happens, instead of wasting money on expensive truck rolls, you remotely send control commands to your managed devices and correct the alarm condition.
Common network issues, such as commercial power outages and high-temperature alarms, will be solved with a simple command to turn on a generator or an air conditioner.
There are some monitoring systems that take you a step further though. DPS devices, for example, are able to automatically activate a control relay according to pre-programmed settings. You'd still receive a notification about the alarm and the relay activation, but no further action will be required from you.
Budget Considerations When Selecting Your Network Monitoring Solution
Now, that you know how remote monitoring systems are important to ensure you have full visibility over your remote sites, you might think that this will be an investment worth making. When you start searching for monitoring systems and associated costs, you'll see three main price tiers.
1. Free Monitoring Software
There are many options of free monitoring software that you simply download from a website. When you look at the price of proprietary monitoring solutions, you might be tempted to get free monitoring software from the internet.
This can be a good option if the protection of your mission-critical network doesn't depend on it. In fact, there are many dangers associated with downloading free monitoring software, such as:
Lack of safety
Free software might not have a monetary cost, but they usually do come at a price. When you download free software, you will probably notice added software bundled with what you are trying to get.
Usually, this added software is malicious software, such as spyware, adware, and browser hijackers. They could be range from being just annoying to being able to send your information to a third party.
Lack of support and documentation
Most free software does not come with support. This means that if you have an issue with it, you probably won't get any help to deal with that. So, counting on tech support is out of the table.
Of course, there are user manuals and other software documentation that might help with your problem. But, since it's free software, there is no guarantee that these documentations even exist.
Complicated interface
Most companies or developers that provide open-source software will not spend time designing a user-friendly interface. The interface will most likely be confusing, will not provide a graphical representation of your network, and will lack important features.
2. Software-Only Solution
Instead of trying your luck with free monitoring software, you'd be better off with a legit monitoring tool. Even though you'll still have to download the software into your PC, you can expect better safety, some documentation (maybe tech support), and an "okay" interface with some key monitoring features.
Software-only solutions are perfect if you need reliable service and competitive pricing.
3. Hardware and Software Solution
Having efficient monitoring software is vital, but the best practice is to have a hardware/software platform. You won't have to worry about the reliability of your consumer-grade PC because your software will be running on stable hardware that won't be crashing or is susceptible to other common computer problems.
The T/Mon master station not only offers effective visibility into your network but also allows for the optimization and improved management as well. With this solution in place, the risk of network downtime drops drastically.
T/Mon keeps your network running smoothly. It provides powerful network monitoring and control features that will reduce downtime, improve security, and allow your team to work more efficiently.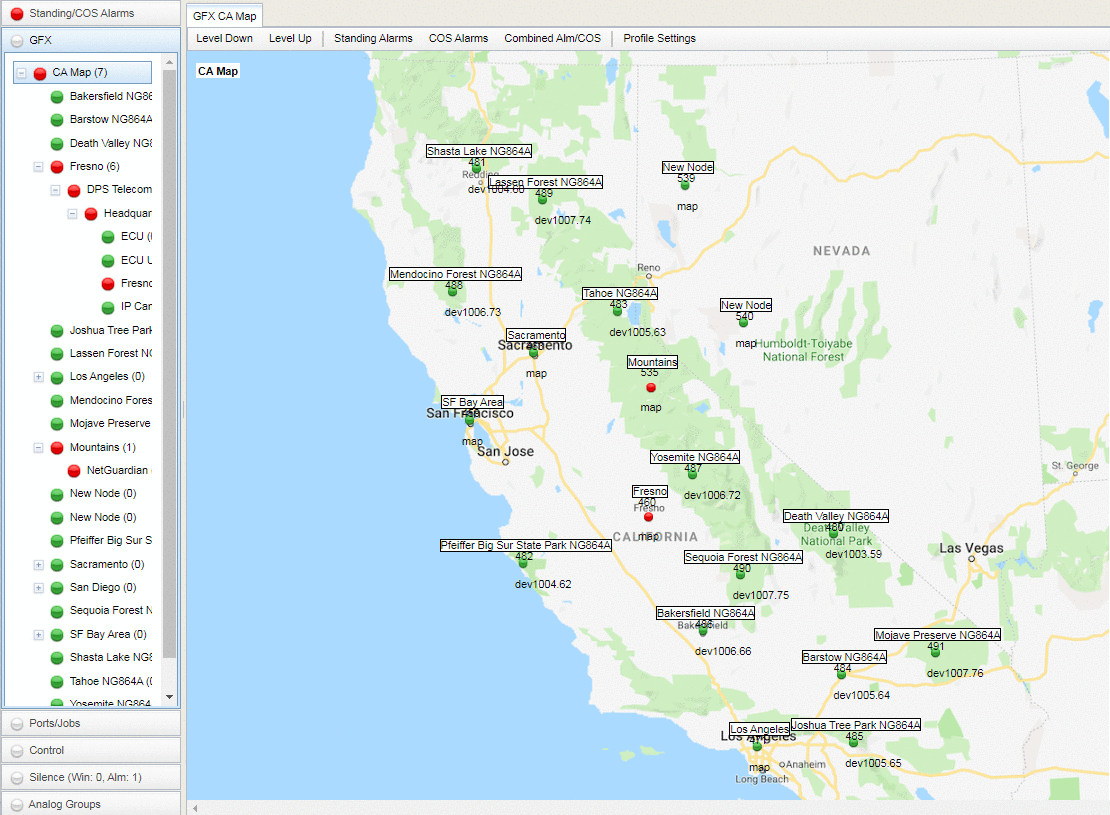 With T/Mon, you can administer a centralized database of configuration information for your entire network. Also, it automatically sends detailed notifications when an alarm event occurs while displaying all sites and alarms on layered geographic maps.
Network Visibility Solution: The DPS Way
A custom design of your remote monitoring system will allow you and your team to handle all network issues that may happen in your unique scenario. You'd be able to see what's going on in your network at all times - and then react accordingly.
DPS can provide you with made-to-order monitoring devices and tools that will continuously monitor and inspect your data. You'll achieve full visibility over your network by collecting and analyzing real-time information and receiving relevant notifications - as you see fit.
We have a broad range of network visibility products, including RTUs, master stations, and monitoring accessories. All of which can be modified in order to fit your needs. Our goal is to empower your network with flexible and manageable devices that are able to handle all of your requirements.
In a nutshell, we can offer you robust network visibility solutions that will allow you to always be on top of all possible issues that may lead to network outages. Contact one of our network visibility experts today and schedule your free consultation.


Morgana Siggins
Morgana Siggins is a marketing writer, content creator, and documentation specialist at DPS Telecom. She has created over 200 blog articles and videos sharing her years of experience in the remote monitoring industry.