Top 6 Features Of An Efficient Cold Chain Monitoring System
Temperature-sensitive products, such as vaccines, need to be kept cold along the entire supply chain, from manufacturing until they reach the end-user. The equipment and processes used to make sure these products are cold are referred to as a cold chain.
Remote monitoring systems is a fundamental part of any cold chain. This is because these systems keep an eye on the temperature of the products and alert you when thresholds are crossed.
Are you looking for a monitoring system that will help you monitor and manage your cold chain? If so, you must pay attention to the following features to make sure your monitoring strategy is efficient.
Fist of All: What is Cold Chain Monitoring?
The first element of a cold chain is the physical gear, such as refrigerated warehouses, insulated packaging, and refrigerated shipping containers. The second element is the processes and policies that should be followed by the staff involved in maintaining the cold chain.
Another element that plays a role in a cold chain is the temperature monitoring system. This system will be integrated with the first two elements.

Cold chains keep temperature-sensitive products in good condition, from manufacturing to delivery.
A competent temperature monitoring system is vital in cold chains because:
Real-time temperature monitoring can be used to identify temperature control problems and allows you to troubleshoot them before it affects your products.
An exact record of temperature from manufacturing to point of use is the only way to prove that your product didn't go through temperature fluctuations outside the acceptable window.
In the worst-case scenario, if temperature fluctuations do damage your product, a monitoring system can help you identify and intercept the damaged batch before it reaches the end-user.
Cold chains are used mostly in pharmaceuticals, frozen foods, produce, beverage, and in specialty chemical and materials applications.
An unreliable, insufficient, or poorly maintained cold chain can have direct economic effects on your company. A poorly conceived remote monitoring system can also result in a lack of visibility and the need for human intervention on a recurrent basis to save endangered material.
In many cold chains, consumer safety is also on the line. If your manufacture and sell vaccines, for example, temperature fluctuations may cause them to lose their potency and cause outbreaks that can be life-threatening.
The quality of cold chains is regulated by the FDA through various parts of 21 CFR for pharmaceuticals, and through the FSMA for foods. This means that cold chain monitoring devices and processes can be audited, with Form 483 citations issued if problems are found.
Top 6 Features of an Efficient Cold Chain Monitoring System
Monitoring systems are important investments that will protect your network. So, if you are in the process of selecting and buying one of these systems, it's important to make an informed decision.
The first step when evaluating a cold chain monitoring system is making sure it will have relevant and powerful features. Some of these features are:
1. Real-time data
Information gathered from your cold chain will be way more useful if it's available at all times and in real-time. This allows your team to react and solve problems promptly before they affect your products.
Even if correcting the issue is not possible, or still can't be done fast enough, real-time information is still actionable. Imagine, for example, knowing that a vaccine has lost its potency. Knowing that allows you to intercept the batch before it reaches the end-user.
Other than temperature, monitoring other aspects such as humidity, vibration, and light exposure can be critical to identify problems early. This reduces the impact of issues and helps prevent them in the future.
2. Accurate monitoring capabilities
The reliability of your cold chain is only as good as the accuracy of its monitoring system. This is because any inaccuracy in the temperature measurement leads to a lack of visibility and can represent a potential issue.
3. Reliable, complete analysis
In addition to having information in real-time, having trend analysis capabilities also contribute to an efficient cold chain monitoring system.
In fact, a competent master station, like T/Mon, can quickly analyze and summarize large data flow collected and sent by multiple RTUs across your network. It can automatically analyze information and identify trends in the data, detecting possible recurring issues and inefficiencies so they can be solved before growing into bigger problems.
Through data analysis you can diagnose the root causes of alarms and develop plans for corrective actions.
4. Custom notification alerts
Another important advantage of using an automated monitoring system is that you will probably be able to customize alerts. Some of the things you can customize are:
Who receives an alert, based on the type of problem
Multiple alert recipients
Auto-escalation for issues that are not acknowledged quickly
The type of message sent (phone call, text message, email)
What will trigger an alert - is it just a single reading that is above or below a set threshold or a series of occurrences?
Including a description of the problem in the notification
Having a monitoring system that allows you to personalize your alert to your specific network can make sure that your response is efficient and fast.
Customization also helps avoid an overload of nuisance alarms. When you disable notifications for alerts that don't represent a problem (false alarms), you'll prevent your team to start ignoring notifications. Careful configurations can ensure that only situations needing intervention will generate an alert.
5. Scalability
Being able to scale up is a major advantage for automated environmental monitoring systems. In this case, scaling up means adding more monitored equipment into your system and consequently having more RTU capacity.
If you have a growing network, you need a monitoring system that can adapt to your current and future needs. Cold chains, specifically, will need even more scalability in the future, due to the development and distribution of a COVID-19 vaccine.
So, make sure to allow room for growth when choosing your monitoring system. Of course, you don't want to spend more money than necessary with the capacity you will never really use. But, it's important to plan for future necessities.
Also, having multiprotocol devices will allow you to integrate equipment that you might buy in the future into your system and under one screen. They also make it possible for you to buy any device you want, instead of being locked with one company due to compatibility issues.
6. Ease of use
Anybody involved in the use of the remote monitoring system should be able to make the most out of it. This means being able to recognize alarms (and situations that can lead to them) and respond to the problems through the monitoring system.
So, having monitoring tools with a user interface that is simple and intuitive is critical. The more view cues you have, the far less cumbersome monitoring tasks will be.
Also, the more automated your system is the less training will be necessary. An added advantage to using an automated system is the easy logging of corrective actions, root causes, and other monitoring aspects. This simplifies troubleshooting and audits.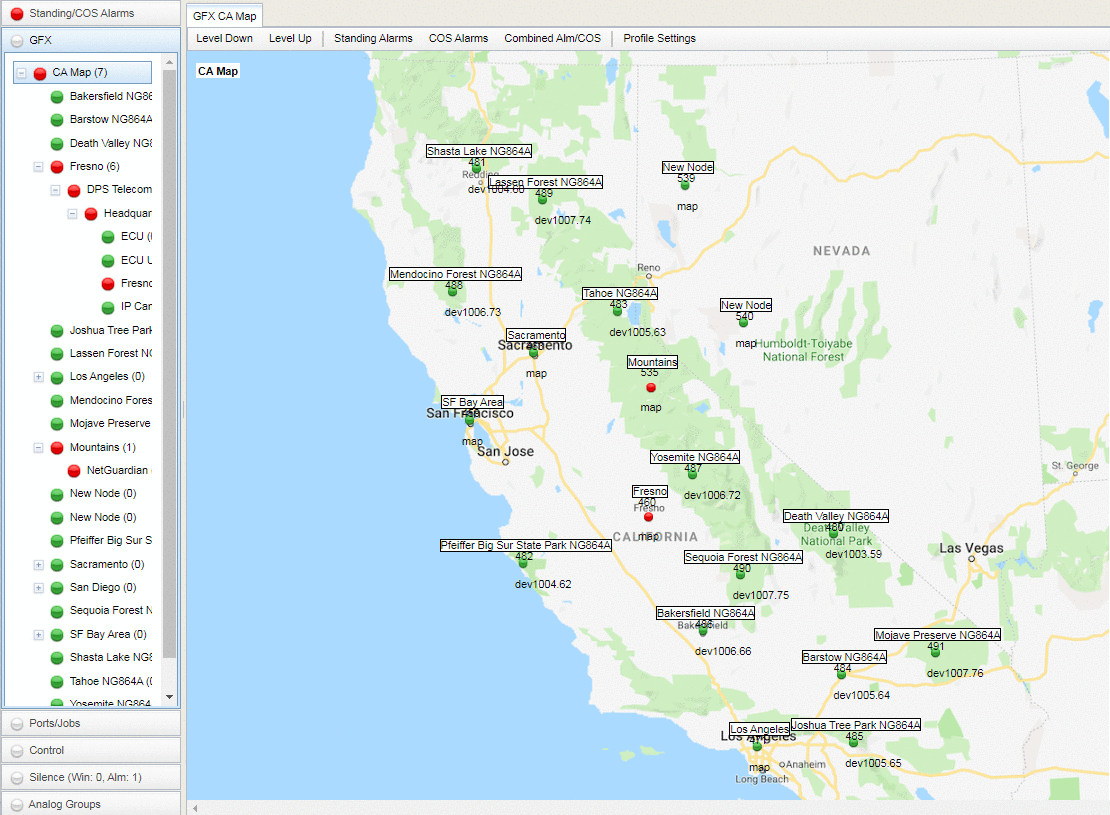 T/Mon's web interface lets you have real-time visibility over your network in an intuitive way.
The Best Monitoring Solution for Your Cold Chain
If your company produces temperature-sensitive products, then maintaining a powerful cold chain is critical for preserving value and regulatory compliance. A key piece of the cold chain is the temperature monitoring system and the monitoring devices you deploy.
Our TempDefender RTU has the all previous six features that allow for an effective cold chain monitoring strategy. It is a compact, simple, and reliable device that monitors basic environmental conditions around your network. The TempDefender gives you important visibility that allows you to avoid serious damage to your cold chain.

The TempDefender allows you to monitor your analog values in a simple way. Each sensor displays its monitored values in gauge form - so you can easily see the status of your alarms in a graphical display.
In a nutshell, the TempDefender will give you the following benefits:
Small form-factor that saves valuable rack space
Plug 'n' play design so you can start monitoring in minutes
You can receive 24/7 email notifications when environmental conditions cross your set thresholds
4 D-Wire sensor inputs (each D-Wire port supports multiple daisy-chained sensors, with a max. of 16 sensors per unit)
Built-in web interface
Don't wait until an issue with your cold chain affects your bottom line. Reach out to us and learn more about the TempDefender.


Morgana Siggins
Morgana Siggins is a marketing writer, content creator, and documentation specialist at DPS Telecom. She has created over 200 blog articles and videos sharing her years of experience in the remote monitoring industry.