The Protocol - Sep/Oct 2001
Featured Product: Harness the Power of Your Network
DPS Telecom announces the 4th quarter release of version 3.6 of its network management and protocol mediation software. T/MonXM provides companies with the information they need to properly manage and maintain their networks. It is well known that many critical network failures can be avoided through early notification and prompt action. As the Telecommunications industry continues to struggle, Quality of Service (QoS) issues are going to become more and more apparent (and important) to your customers. Alarm Monitoring enables you to manage larger, more complicated networks with a smaller, less-trained staff. Through maintaining visibility of your revenue-generating equipment, you help make sure it is doing exactly that: generating revenue!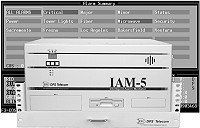 Maintain service uptime:
T/MonXM version 3.6 adds new functions to help you maintain service uptime.
Version 3.6 boasts many significant internal modifications and enhancements, but the most exciting newcomers are the SNMP Trap Manager and the FTP Server modules.
Users of previous T/MonXM versions have been able to mediate non-SNMP alarms to up to 8 SNMP managers, but the collection of SNMP alarm data has been a missing element. That is no longer the case with the release of version 3.6. The Trap Manager monitors Traps from any SNMP device and enables you to present SNMP Traps in the same format as all of your other telemetry data.
The FTP Server is an entirely new addition that enables remote backup of your critical T/MonXM database. In previous versions, this function had to be performed on site using a floppy disk. Now you have the additional option of backing up your database even if your IAM is at a remote location. The FTP server module allows any FTP client with authorized access to connect to your T/MonXM and perform file maintenance functions.
T/MonXM embedded server technology is available on the T/Mon NOC, a 48VDC powered rack-mount server. As there is a multiplicity of input sources compatible with T/MonXM, this consolidation of telemetry data into one cohesive, easy-to-understand presentation is no small feat. Input sources include up to thirty-seven industry protocols and over one million alarm points. The majority of alarm monitoring functions is performed using 3 basic screens. The interface is color-coded to provide a visual representation of alarm severity.