T/Mon NOC Pinpoints Problems Before the First Truck Roll
Sometimes, you just need your alarm remote to call you when there's trouble at one of your sites. That's exactly what the new voice-capable NetGuardian LT does - and it does it in 3 different ways.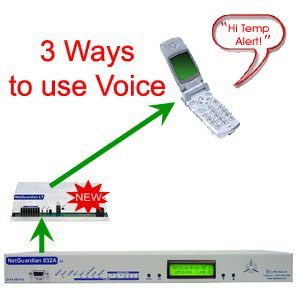 The NetGuardian LT can provide voice
alerts via phone in 3 different ways...
With the LT in standalone mode, connected to your larger NetGuardian remote, or connected to your T/Mon NOC master, you can setup different voice alerts for different alarm severities. And if the first person on the call list doesn't acknowledge the alarm, then it will automatically dial the next person.
The 3 Ways to Use NetGuardian LT voice alerts:
Standalone Mode


In this mode, the NetGuardian LT collects alarms using its 2 or 4 discrete alarm inputs (build option). When an alarm is received, the LT dials out to its pre-configured list of phone numbers. You also have the option to report alarms as SNMP (v1) traps or monitor via the built-in web interface. This light-capacity option is great when you have just a few alarms to monitor at a small site.

Connected to a Larger RTU


The NetGuardian LT can also add voice alert capability to other NetGuardian models that support Derived Controls. By writing custom formulas that translate Critical and Major alarms (or more specific alarms) into automatic control relay commands, another NetGuardian can send alarm severities to the inputs of an attached NetGuardian LT. The LT will then begin dialing its call list and issue a voice message, such as "Critical Alarm at Site 3".

Connected to a T/Mon NOC Master


If you need voice alerts for alarms from your entire network, you can connect it to the relay outputs of your T/Mon NOC alarm master. Using the same Derived Control technology described above in #2, T/Mon can latch control relays that have been wired into a NetGuardian LT. The LT will then dial its list of pre-programmed phone numbers and alert you of an important new alarm received by your alarm master.
To learn more about the NetGuardian LT and its versatile voice functionality, call DPS at 1-800-693-0351.