Network: TCP/IP Network with T/Remote for Windows Network.
Windows Environment
One of the most obvious advantages of T/Remote for Windows and T/Remote for Windows Network is that they both run on the popular Windows platform. This allows you to integrate T/Remote into your normal "Desk Top" environment. As with any other Windows application, you can move and minimize windows. You can "Multi Task," running T/Remote for Windows while running other applications. The user interface is consistent with other windows applications, which makes T/Remote for Windows easy to learn and use.

T/Remote window: Monitor Screen in Windows Environment.
Menu bar commands are quickly accessible.
Audible Alarm
T/Remote for Windows has a unique audible indication feature for COS alarms, not available under any other form of remote access. It allows you to set your own personal interruption level. For example, you can instruct the program to notify you only if there is a major or higher level alarm in a window that you are authorized to access. When this occurs your computer will beep and you will see either the title bar blink (if maximized) or the T/Remote Icon blink (if minimized).
Printer Logging
T/Remote for Windows supports printer logging. If you have a parallel printer connected to your computer, it can be used to log all activities that occur within the selected T/MonXM alarm windows. You may also generate hard copy reports for all authorized standing or change of state windows.
Direct Connect (T/Remote for Windows)
Direct connect applications are supported for non networked RS232 connections. T/Remote for Windows allows a dedicated alarm monitoring station to monitor T/MonXM alarms, as well as other applications and surveillance systems that run under windows.
Network Access (T/Remote for Windows Network)
Network access allows you to establish a link via your TCP/IP network (LAN/WAN) to T/MonXM. This eliminates the need to run dedicated RS232 or long haul circuits between T/MonXM and remote terminals. Simply use your existing network connectivity to access T/MonXM screens from any PC on your network. Remote Access ports on T/MonXM are tied into the network via a terminal server.
Dialup Applications
Dialup ability proves invaluable for calling up from home or a remote site to find out current system status and to find out if and how problems were fixed. For unmanned sites, T/MonXM will typically send an Alpha page to a technician, who would then use T/Remote for Windows to find out more in depth information. All the technician needs to do to access the main system is select the DIAL option from the menu. A communications link will be established with the T/MonXM master. Technicians often use dialup remote access as a diagnostic tool to see what effect their changes are making.
Menu bar
T/Remote for Windows and T/Remote for Windows Network are very easy to configure and use. While terminal emulators in general do not require much configuration, software configuration is controlled from a menu bar which clearly leads through all selections. Once an option is chosen, a dialog box with all the current settings will be displayed. These settings can be changed by simply pointing and clicking on the new option.

Easy-to-Use: COM Port Setup Screen
Site License
T/Remote for Windows Network can be loaded on as many computers or laptops that need to access the T/MonXM Workstation. The package includes a T/Remote for Windows Network disk (3.5"), a Site License for T/MonXM and 10 copies of the user manual.
T/Remote for Windows is also available with a Site License.
Security
The T/MonXM security system controls which remote users are allowed to access the system and controls what actions they can perform.
Smart Driver
Communications between the T/Mon Workstation and the T/Remote for Windows Network software has been optimized to send more information in fewer characters, increasing throughput. Rather than sending every character to the terminal, commands have been added that eliminate transmission of unnecessary information. This allows screens to be updated much faster.


top
---
Get a Custom Application Diagram of Your Perfect-Fit Monitoring System
There is no other network on the planet that is exactly like yours. For that reason, you need to build a monitoring system that's the right fit for you.
"Buying more than you need" and "buying less than you need" are real risks. You also have to think about training, tech support, and upgrade availability.
Send me a quick online message about what you're trying to accomplish. I'll work with you to build a custom PDF application diagram that's a perfect fit for your network.
---
Make an Informed Decision
Your network isn't off-the-shelf.
Your monitoring system shouldn't be, either.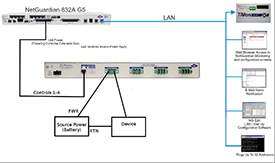 We'll walk you through this with a customized monitoring diagram.
Just tell us what you're trying to accomplish with remote monitoring.
Get a Custom Diagram