Supercharge your Dispatch Room with an Annunciation Panel and T/Mon NOC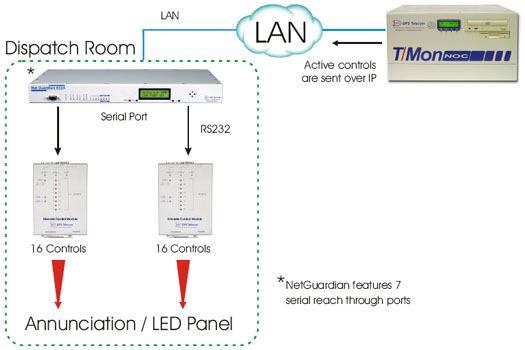 APC InfrastruXure SNMP Manager monitoring the NetGuardian 216
Equipment Used:
Dispatch Room
Annunciation / LED Panel
How This Application Works:
In an effort to provide you with latching relays to activate your LED annunciation panel, we have provided pricing for two Discrete Control Modules. The DCM will use two serial connections, from the NetGuardian serial port and ultimately receive commands from the T/Mon NOC master station.
The 1 RU NetGuardian 832A alarm remote supports 32 discrete alarms, 8 analog inputs, 8 control relays, 7 serial ports, 1 RS485 port and an informative local LCD display all in a 1 rack unit of space. The discrete alarms are items such as door alarms, equipment alarms and other ON/OFF events. The discrete alarms are "software reversible" to support both N/O and N/C alarm wiring.
The NetGuardian 832A's 8 analog inputs are used for measuring such critical events as temperature and voltage. We also have a line of sensors which can be used with the NetGuardian 832A and can be included upon your request. Each of the alarms can be assigned qualification times so that transient and nuisance alarms can be filtered out. This version of the NetGuardian 832A features dual power feeds. You will be able to connect the secondary power feed to a backup source.
The dual power feeds will automatically draw from the backup source if the primary source becomes unavailable. The RS485 port included in the NetGuardian can be used with a number of optional accessories we carry at DPS Telecom.
A couple of products that can be used with the NetGuardian 832A are the General LCD Display and Building Access System. Again, we will be glad to provide pricing and further information about these products upon your request.
The controls are a convenient and time efficient way of remotely switching equipment in the field via the NetGuardian 832A's internal relays. You will be able to remotely access up to 8 external equipment such as turning ON/OFF lights, turning ON/OFF backup generators, OPEN/CLOSE gates, etc.
The NetGuardian 832A also comes equipped with a built in 33.6 modem. The built in 33.6 modem is a great way to get dial up access to this equipment should your primary transport fail and supports full PPP functionality. If your LAN connection is ever disrupted, the NetGuardian 832A will be able to dial into your ISP and re-establish the LAN connection. This function will prove usefulness time after time to your unmanned remote sites.