Learn more about this complete site monitoring and control application, or work with a DPS engineer to design a solution tailored for your specs...
Call 1-800-693-0351
Email sales@dpstele.com
Use the form below to submit a fast information request
To get more information, an upgrade discount price quote or ROI analysis...

Call 1-800-693-0351

*a minimum order may be required
ECU X2 Specifications
NetGuardian ECU X2 back panel.
Full Specifications
Discretes:
8 (expandable to 16).
Analogs:
4 user-definable.
Controls:
2.
Number of Doors:
2.
Interfaces:
4 10BaseT LAN ports.
1 50-pin Amphenol connector.
1 RJ11 D-Wire port.
1 USB Craft port.

Power Input:
Dual -48 VDC.
Fuse:
3/4 Amp GMT.
Visual Interface:
9 Front panel LEDs.
5 Back panel LEDs.
Mounting:
19" or 23" rack.
Rack Space:
1 RU.
Operating Temperature:
32 - 140 degrees F (0 - 60 degrees C).
Operating Humidity:
0 - 95% non-condensing.
RoHS:
5/6.
ECU X2 Details
Control building access and monitor critical alarm conditions - from the same device.
If you're in need of a 2-in-1 box that can control building access and monitor critical alarms, then the NetGuardian ECU X2 is the device for you. With this RTU, you'll be able to monitor 8 (expandable to 16) discrete alarm points and 4 analog (user-definable) alarm points. On top of this network monitoring, you'll also have support for controlling access to dual doors (the unit stores the door access codes locally).
This device is compatible with keypads, proxy card readers (supports 26 & 37 bit cards), or the DPS combination unit (Building Access Proxy Keypad). This device is perfect for adding total security to your sites. From this same 1 RU of space, you can monitor critical alarms to secure your network equipment and physically protect the site by controlling door access - all from 1 RU of space.
With the NetGuardian ECU X2 you get...
8-16 discretes, 4 analogs, and 2 control relays
Dual door access controller
D-Wire sensor network
Sensor power supply - power external peripherals and/or door strike relays
Easily mounted in a 19" or 23" rack
Front panel LEDs for visual notification
---
Get a Custom Application Diagram of Your Perfect-Fit Monitoring System
There is no other network on the planet that is exactly like yours. For that reason, you need to build a monitoring system that's the right fit for you.
"Buying more than you need" and "buying less than you need" are real risks. You also have to think about training, tech support, and upgrade availability.
Send me a quick online message about what you're trying to accomplish. I'll work with you to build a custom PDF application diagram that's a perfect fit for your network.
---
Make an Informed Decision
Your network isn't off-the-shelf.
Your monitoring system shouldn't be, either.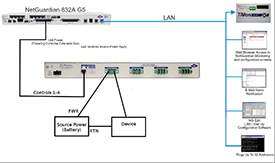 We'll walk you through this with a customized monitoring diagram.
Just tell us what you're trying to accomplish with remote monitoring.
Get a Custom Diagram