"How to Attend Factory Training Without Paying Tuition..."
Securing budget dollars for training can be tough. Even so, regularly attending factory training sessions is an industry best practice. It's the fastest way to get started with new equipment and to make sure that you take full advantage of all software updates.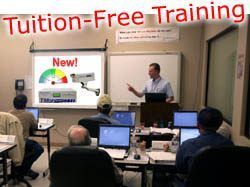 That's why tuition-free factory training, for those who qualify, is such a good deal. Eliminating tuition dollars takes a big bite out of the overall cost of training, so you can stay current on the equipment deployed in your network.
At DPS, we offer free factory training for qualified professionals. It's a key part of our commitment to total client satisfaction.
But the real test of any training class is what you - members the client base who have attended DPS Factory Training - think. In the video below, you'll hear directly from past students and a DPS training instructor:
Anyone who's attended a DPS Factory Training Event will tell you it's not like any other training course. It's top-notch instruction with helpful cost reductions that make it easier to get approval. Here are some key benefits of DPS Factory Training:
Helpful cost reductions:

You'll pay no tuition to attend DPS Factory Training. You'll also receive free breakfasts and lunch, discounted hotel rates, and free shuttle service to DPS from your hotel.

Personal instruction in small classes:

Classes are capped at fifteen people, so your instructor can focus on you. If you want to spend more time on a topic, your instructor or a DPS engineer will be happy to meet with you in a one-on-one breakout session.

Learn from engineers with real-world experience:

Your DPS instructors are skilled engineers who have worked on DPS product design and field implementations. They know your equipment and how you use it.

Work hands-on with real-world equipment:

At a DPS Factory Training Event, you'll work directly with the equipment - and you'll get the unique know-how that only comes with personal experience.

Daily workbooks:

At the start of each class day, you'll receive a new training workbook. Your workbook is packed with handy topic outlines and lots of hands-on activities. The workbooks are yours to write in and keep, providing helpful guidance during class and a valuable resource after you return home.

Complete access to DPS Telecom:

You'll talk to the engineers who designed your equipment, tour the factory where it was built, and see the latest DPS products. If you've got a suggestion on how we can improve our products or services, we'll listen to you - and act to meet your needs.

Friendly, welcoming atmosphere:

The entire DPS staff will make you feel welcome. Hosted lunches will give you a chance to casually unwind with your classmates. You'll be able to share telemetry tips and experiences, and you'll get to know people you can relate to. Come to Fresno a day or two early and you can explore the splendors of nearby Yosemite, Sequoia, and Kings Canyon National Parks.