What terms are defined in the MIB?
Previous Page:
Demystifying the MIB by Marshall DenHartog


Download White Paper

Figure 1. The OID identifies managed objects that can have assigned values
The elements defined in the MIB can be extremely broad (for example, all objects created by private businesses) or they can be extremely specific (like a particular Trap message generated by a specific alarm point on an RTU.)
Each element in the MIB is given an object identifier or OID. An OID is a number that uniquely identifies an element in the SNMP universe. Each OID is associated with a human-readable text label.
What is the function of an OID?
The OIDs identify the data objects that are the subjects of an SNMP message. When your SNMP device sends a Trap or a GetResponse, it transmits a series of OIDs, paired with their current values.
The location of the OID within the overall SNMP packet is shown in Figure 1.
What does an OID look like?

Figure 2. A branch of the MIB object identifier tree
Here's an example: 1.3.6.1.4.1.2681.1.2.102
OK... But what does it mean?
The OID is a kind of address. It locates this particular element within the entire SNMP universe. The OID describes a tree structure, as shown in Figure 2, and each number separated by a decimal point represents a branch on that tree.
The first few numbers identify the domain of the organization that issued the OID, followed by numbers that identify objects within the domain. Imagine if your home address started "Universe, Milky Way Galaxy ..." and ended with your house number. In a similar way, each OID begins at the root level of the OID domain and gradually becomes more specific.
Each element of the OID also has a human-readable text designation. From left to right, our sample OID reads:
1 (iso): The International Organization for Standardization, one of the two organizations that assign OID domains.
3 (org): An ISO-recognized organization.
6 (dod): U.S. Department of Defense, the agency originally responsible for the Internet.
1 (internet): Internet OID.
4 (private): Private organizations.
1 (enterprises): Business enterprises.
2682 (dpsInc): DPS Telecom.
1 (dpsAlarmControl): DPS alarm and control devices.
2 (dpsRTU): DPS remote telemetry unit.
102 (dpsRTUsumPClr): A Trap generated when all the alarm points on an RTU are clear.

More Info Resources on the Web
The DPS Telecom White Paper Series offers a complete library of helpful advice and survival guides for every aspect of system monitoring and control.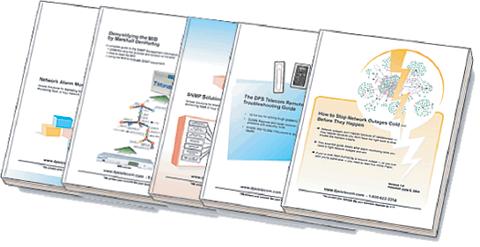 Download your white paper
here
Let DPS Help You Survey Your Network - A Free Consultation at No Obligation to You

Determining your alarm monitoring needs can be tough. If you've got a busy job with lots of

Ron Stover
Director of Sales
DPS Telecom
responsibilities, you don't have a lot of time to evaluate alarm systems and survey your remote sites.
So why not get help from experts you can trust? DPS Telecom will help you survey your remote sites step-by-step, making sure you don't miss any opportunities to make your network monitoring simpler, more effective - and easier on your budget.
"We're not your typical sales department," says Rick Dodd, DPS Telecom Director of Sales. "We're design consultants, and a lot of the time we propose solutions that have a smaller sales volume, if it's the right solution for the client."
A DPS expert consultant can help your figure out what alarm system will most effectively meet your needs without overloading your budget. Our goal is to help you maximize your return on investment while minimizing your expenditure - without pressuring you to buy a particular system.
There's no hard-sell sales tactics. No harassing sales calls. No pressure to buy. You won't get any equipment recommendations until we've helped you plan the right monitoring strategy for your network.