T/Mon SNMP Manager.

Don't choose an SNMP manager that orphans all of your non-SNMP gear. No matter how modern you think your network is, it probably includes at least some legacy equipment. Many SNMP managers support SNMP and nothing else. Others can and will handle both traps and alarm messages in other protocols. To avoid the needless expense and complexity of an external translation box, you should handle SNMP and other protocols with one manager.

Another factor in your decision should be the alert methods supported by any potential SNMP manager choice. If you want your team of 10 technicians to receive individual text messages based on their assigned role, find a manager that supports that function. Maybe you want email alerts, or voice alerts, or a map display on the screens of 15 different users. Whatever you need, choose a manager that matches your requirements.

What if you already have a master that you like? Did you know that you can bring SNMP traps into a different alarm master by converting them into its native protocol? As an example, it is possible to install a Modbus to SNMP converter to bring SNMP into a SCADA master.

Finally, you may find some instances when you need to think smaller about SNMP managers. If you work on a small network (or even a small segment of large network), you may come across cases where you have limited SNMP equipment. It's not enough to justify a large manager. Maybe the site doesn't have LAN (temporarily or permanently). You need some way to monitor your SNMP-capable gear. The solution is to use a remote SNMP-to-alert device. This will be a small box (about 1 RU) that can send SMS or other alerts when certain pre-programmed SNMP traps are received. This gives you the SNMP visibility you need without requiring LAN to transmit traps.
---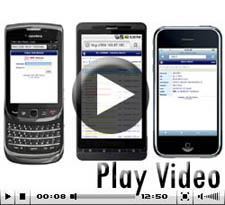 SNMP Manager on Your Smartphone
Monitor SNMP on your Smartphone
Don't be stuck with an outdated manager. Modern managers allow you to manage your SNMP gear with your smartphone.
This is especially useful when your technicians are out in the field. No longer do they have to return to the NOC to get a new assignment. If you have human dispatchers, this is a chance to remove some human error potential from your operations.
It's better to choose a web interface over a dedicated app. An app must be installed. An app works with just one OS. A web interface works on most platforms without an install.
Take a minute to watch this video demo. It will show you a real SNMP manager's mobile web screens. Get a sense of what you should purchase and deploy.
---
Consider encrypted SNMPv3
You deploy SNMP RTUs at your remote facilities to collect alarm data and report it as SNMP traps. There are many different SNMP RTUs, and you shouldn't settle for anything that isn't an excellent fit for your project.
In today's environment, you need to decide whether to standardize on an SNMPv3 RTU. Unlike earlier versions of SNMP, v3 resists tampering by using message encryption. At security-conscious organizations (especially a government agencies or large corporations), this can render SNMPv1 and SNMPv2c basically obsolete.
Let's assume for a moment that you do have an SNMPv3 mandate. That presents a big challenge. Security mandates don't generally come with budget dollars to replace all your old gear. If you already have SNMP equipment in your network, it probably supports earlier versions of the protocol (v1 and v2c). That calls for a device that will convert older equipment to secure SNMPv3. The conversion is done locally within a single facility. Unsecured SNMP still exists, but it can never leave the building. Only encrypted data leaves the premises.
Remember one more thing: If you standardize on SNMPv3, you probably also have an enterprise-grade RADIUS server. If you choose an RTU that supports RADIUS login, you can take advantage of the RADIUS profiles you already have.

---
Forwarding SNMP wirelessly over GSM or CDMA networks
Let's face it: some of your remote sites don't have excellent infrastructure available. Some of them won't have LAN. That doesn't mean you have an excuse not to monitor. One little known but powerful technique is forwarding SNMP via wireless SMS. All it takes is a conversion device. You can collect SNMP traps locally at each site and forward extracted alarm data via wireless SMS text messages (GSM or CDMA).
---