Establish Secure School Campus Access Control using the Building Access System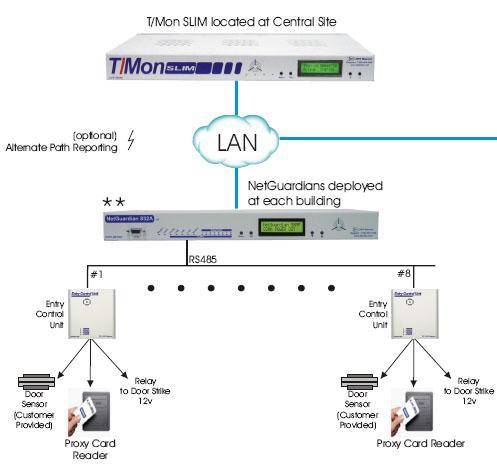 Establish Secure School Campus Access Control using the Building Access System
Equipment Used:
How This Application Works:
We have prepared this solution for school districts. The solution features a full Building Access System, featuring the T/Mon SLIM and NetGuardian 832A G4. Besides interfacing with the Building Access System, the NetGuardian G4 will also be able to monitor contact closures from the GE Networked Intrusion system. The T/Mon SLIM will provide alarm notification, escalation and keep record of up to 10,000 entry events.
To complete the Building Access System, we have included the key components to monitor all buildings (doors). Because you have built-in door strike at each door, we have included a 12V strike output from the ECU. The Proximity Card Reader will interface to the ECU, providing key-less entry via HID cards (not included in solution). Local information/data will be kept at the ECU level, however, the NetGuardian will also report all door activity to the T/Mon SLIM with the Building Access Support Module (preloaded onto the T/Mon SLIM).
The NetGuardian G4 will also be able to monitor your GE Networked intrusion system via contact closures and report those alarms via DCPx over LAN to the T/Mon SLIM. The T/Mon SLIM will send alarm messages via e-mail or SMS text message to a cellular phone, providing instant notification of alarms. School district technicians will be able to view alarms remotely via the built in web browser or the T/GFX program (loaded onto separate PC's or Laptops). This solution will give you full visibility of alarms and your network without having to reside with an outside service to monitor your alarm activity.