"New Application: How to Auto-Dial Into Your VoIP System..."
How many times have your techs been out at a remote site when a new alarm comes in? That can put them out of cell phone coverage, and they're probably not actively watching for alarms. In this scenario, the best way to send new alarm notifications is via an automatic overhead voice message. This new application for the SiteDialer and VoIP order wire systems can do just that.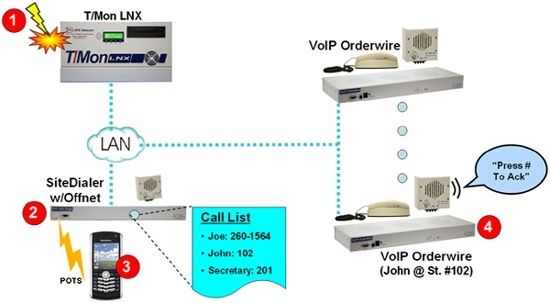 The DPS SiteDialer is an auto-dialer device that will call a specified list of phone numbers with automated voice alerts when new alarms occur. The VoIP order wire system allows for efficient, LAN-based, site-to-site communication for technicians throughout your network.
The new DPS SiteDialer with VoIP combines auto-dialer and VoIP technology. The DPS SiteDialer has always been an excellent solution for sending automated voice messages to your technicians. You can setup custom call lists for alarm escalation, so notifications will continue until someone acknowledges the alarm. The new SiteDialer with VoIP has the added ability to reach them via VoIP or phone.
SiteDialer with Offnet - Application Diagram.
When an alarm occurs, T/Mon processes the alarm data and sends it to the SiteDialer, which contains the custom call list you've designed. This call list contains contact information for the employees who should be notified about the associated alarms. The call list used to support only phone numbers, but now yo can use VoIP Order Wire stations as your points of contact. The SiteDialer can call another VoIP station directly, or even use the "Hoot n' Holler" all-call feature to broadcast the alarm notification to every VoIP order wire node across the network. In the case of a power failure or other network emergency, sending a fast voice alert to every site will give you a better chance of keeping your network online.
Incoming alarm; data collected by T/Mon.
Alarm data forwarded to the SiteDialer, which contains the call list.
Voice notifications sent via POTS line.
VoIP station called by SiteDialer; alarm ack'd by technician on site.
Contact Your DPS Sales Rep Today to Discuss the SiteDialer with Offnet
Find out how this new SiteDialer and VoIP Order Wire stations can slash your alarm response time. Call DPS at 1-800-622-3314. You can also send a quick message to Mac Smith using the form below.
To receive a price quote or ROI analysis...
Call 1-800-693-0351.