The Remote Alarm Block 176 G2 gives you 176 wire wrap connections for easy turn up at your high-volume sites.
Network connectivity adds several new advantages to this powerful remote unit:
You can deploy the RAB 176 G2 anywhere a LAN/WAN connection is available, eliminating the need for dedicated circuits.
You can mediate discretes to SNMP Traps without the time, trouble, and expense of deploying a separate terminal block and RTU.
Versatile multiprotocol support lets you connect the unit directly to your existing SNMP manager or T/Mon master station.
Dual power inputs give you superior reliability - giving you visibility even if one power source goes down.
Smooth Migration to LAN
And because the RAB 176 G2 also supports an RS232 serial port, you get a reach-through terminal server and DCP polling capabilities.. You can deploy the RAB at sites without a LAN connection now, and when LAN access is added to the site, the unit can be switched to LAN transport with a simple change in provisioning. And you won't have to disconnect any of your alarms.
Removable Smart Brain Card
The smart brain card inside the RAB 176 G2 can easily be removed from the unit. This means you can easily replace the card (in the unlikely event of a malfunction) without having to re-terminate 176 alarms.
Get More Information About this New SNMP RTU To learn more about the RAB 176 G2 or to have the DPS engineering team work with you to design an RTU for your remote sites...
Call 1-800-693-0351
Email sales@dpstele.com
Use the form below to submit a fast information request
To receive a price quote or ROI analysis...
Call 1-800-693-0351
---
Get a Custom Application Diagram of Your Perfect-Fit Monitoring System
There is no other network on the planet that is exactly like yours. For that reason, you need to build a monitoring system that's the right fit for you.
"Buying more than you need" and "buying less than you need" are real risks. You also have to think about training, tech support, and upgrade availability.
Send me a quick online message about what you're trying to accomplish. I'll work with you to build a custom PDF application diagram that's a perfect fit for your network.
---
Make an Informed Decision
Your network isn't off-the-shelf.
Your monitoring system shouldn't be, either.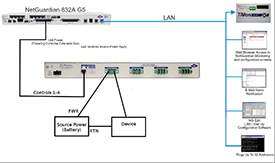 We'll walk you through this with a customized monitoring diagram.
Just tell us what you're trying to accomplish with remote monitoring.
Get a Custom Diagram