NetMediator RTD G5: The Intelligent RTU
The NetMediator RTD G5 is a powerful, compact alarm collector that provides network managers with remote visibility of their IP network elements. It supports 32 ping alarms, 32 discrete alarms, 8 analog inputs, and 8 controls. This means that this versatile unit will give you a vision of your entire network. And with redundant network connectivity, you will have a backup means of reporting.


The NetMediator RDT G5 - The Intelligent RTU for Complete Site Management.
What You Can Do With The NetMediator
This RTU can has many important features that will help you have a complete situational awareness over your remote sites at all times. Here are some of the NetMediator capabilities:
Monitor 32 discrete alarms, 32 ping alarms, and 8 analog alarms.
Expand analog coverage to 72 sensors with RTD 32 DX units.
Control remote site equipment via 8 terminal server ports and 8 control relays.
Set threshold groups and derive relay actions based on analog threshold alarms.
Monitor your remote site from anywhere using the NetMediator's built-in Web Browser Interface.
Report alarms to multiple SNMP managers or the T/Mon Alarm Monitoring System.
Report alarms via LAN or dial-up connection.
Automatically send pager and email alarm notifications 24/7.
Connect multiple concurrent users via Telnet over LAN to telecom switches, servers, radios, PBXs and other equipment.
Ping IP network devices and verify that they're online and operating.
Configure redundant LAN connectivity, to ensure reporting even if the primary LAN path fails.
Applications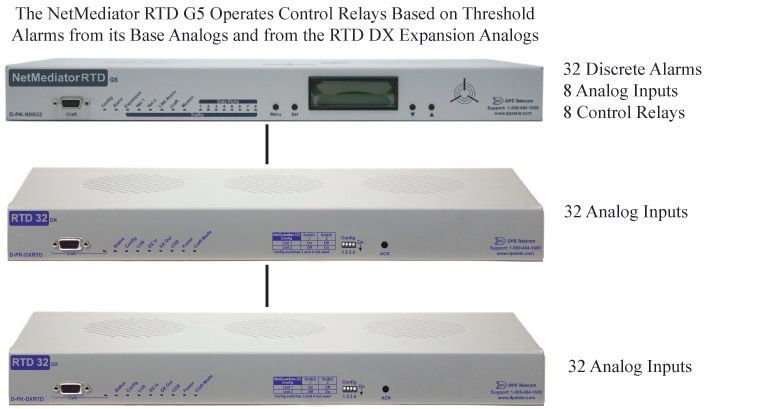 The NetMediator RTD has built-in intelligence for specialized analog monitoring and response.
Imagine you have a site in a cold climate. When interior heat rises, you can open a vent to release hot air. The NetMediator RTD can be programmed with a threshold temperature (ex. 82 degrees F).
When that threshold is reached, the RTD will latch a control relay. In this example, you have that relay wired to your vent controller. The vent, therefore, opens at the proper moment. It will close again when temperatures drop to another defined level.
That's just one example. The RTD is intentionally flexible so that you can use it creatively.
Get to Know a Newer RTU Model: The NetGuardian 832 G5
Are you looking to equip your remote sites with monitoring technology that will keep up with your network? If so, you don't have to look any further. The NetGuardian 832A G5 boasts several enhancements from previous NetGuardian models - which include advanced hardware, increased processing speed, and enhanced security options.
The higher-speed processor allows you to process alarms faster than ever before. This will provide you with a significantly faster web interface. It also supports more processor-intense functions. You'll truly be able to perform advanced monitoring tasks with this NetGuardian.
The NetGuardian 832A comes with 8 control relays, 8 analog inputs, and 32 discrete alarm inputs. These are handy for monitoring all of your important discrete and analog alarm points. The RTU is also packed with 32 ping alarm inputs and dual NICs.
You also get a 10/100 switch (which is optional) and your choice of power-input voltages. This allows you to customize your RTU to meet the needs of your remote sites.