The Protocol - Jan/Feb 2000
NetDog goes to Trial
DPS Telecom's NetDog 82 IP product is now deployed on location at several partner's locations and reportedly doing the job well.
NetDog is designed to provide environmental monitoring at network element locations as well as interrogation of 32 TCP/IP network elements for operational status. It reports details to your SNMP manager or it can be programmed to call your paging service and issue an alpha or numeric message to your pager. NetDog can also report fault alarm data to your DPS Telecom T/MonXM or IAM element manager.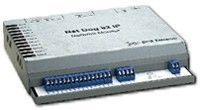 Notification:
Notifies you via SNMP or pager when an analog or discrete alarm occurs, such as an open door, AC power brownout, high temperature, fire or failed power.
An ASCII port gives you access to a nearby ASCII device to obtain performance details and perform configuration. Access can be via your SNMP manager or with a tone dialing phone.
When a DPS product is introduced, it often begins life with some planned features held for implementation at a later time when they are needed.
The current issue of NetDog features one ASCII port and discrete alarm inputs. An additional ASCII port and analog alarm inputs are planned for the future.
Do you have questions about the NetDog?
Give us a call at our toll-free number and talk to one of our specialists. They'll help answer any questions you may have.
Sales: 1-800-693-0351 * Support: 559-454-1600 * Fax: 559-454-1688