Remote Monitoring And Control Via T1 WAN
Besides planning on which remote terminal units (RTUs) and human-machine interface you'll use when designing your SCADA system, it's also important to consider communication protocols and transport between network devices. There are multiple different types of protocols, and a common one is the Transaction Language 1 (TL1).
TL1 is an SCII-based management protocol widely used in remote monitoring and control systems. With this protocol, you can:
Send Input commands sent to an RTU
Acknowledge messages sent from the RTU to acknowledge instructions from input command messages
You can receive detailed responses from the RTU to input commands
Autonomous messages sent by RTUs either generated periodically or used to report an unusual event
A T1 SCADA solution transports Supervisory Control and Data Acquisition traffic via a T1 Wide Area Networks (WAN). A key advantage of a T1 SCADA WAN solution is the ability to monitor remote sites in that are outside of your existing LAN. Additionally, you can bring Ethernet to other devices on site. And with a SCADA device that only requires 1 rack unit of space, you get all of the functionality you need without eating precious space in your enclosures.
The NetGuardian 216T by DPS Telecom provides remote access to serial equipment and LAN access to 7 network elements. This device allows you to monitor sites that normally would be inaccessible.
Other solutions, such as a transport card and switch, are costly and require multiple devices. Additionally, these solutions do not allow you to monitor other devices, such as generators. The NetGuardian 216T has the ability to do both functions, while also providing other features such as monitoring capabilities.
When it comes time to select a T1 RTU, be sure to choose one that also supports LAN. This provides two key benefits.
First, you don't have to buy different remotes for different applications. Second, dynamic network growth is much smoother with the NetGuardian 216T. When your network expands, you can easily transition to full Ethernet without having to replace your alarm remote.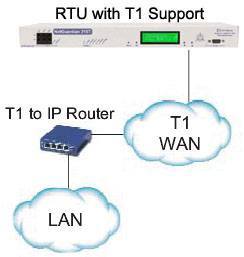 This diagram depicts the fundamental structure of a T1 WAN monitored with a T1 SCADA device.
Product Related to T1 SCADA: