Add More Alarm Points in Less Rack Space with the NetGuardian 480DX
Have any of your sites expanded beyond the 32 alarm points on your NetGuardian 832A RTU? Are you planning for the installation of a sizeable new site? DPS has a new option for expanding alarm capacity at your medium- to high-density sites.
80 Additional Discrete Alarm Points, 4 Additional Control Relays, Just 1 Rack Unit
The NetGuardian 480 can now be connected to a NetGuardian 832A G4 to provide an additional 80 discrete alarm inputs and 4 control relays. At the flip of a dipswitch, the 480 changes from a stand-alone remote to an expansion unit for an 832A G4.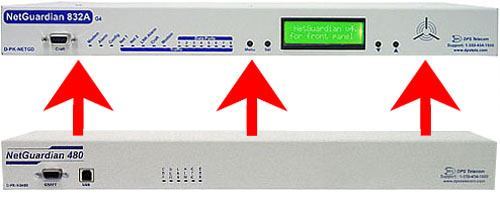 With the NetGuardian 480 attached to an 832A G4, you get 80 additional inputs in a slim 1-RU chassis. That's a grand total of 112 alarm points in just 2 rack units.
Video review of the similar 832A DX (32 discretes instead of 80):
Whether you're bumping up against your existing point capacity or simply planning ahead for new installations, the NetGuardian 480 can provide the additional point capacities you need without consuming unreasonable rack space and budget.

Stand-alone and Expansion Mode in a Single RTU Provide Maximum Flexibility
Since it only takes a pair of dipswitches to change the NetGuardian 480 from stand-alone to expansion "DX" mode, you'll be purchasing a remote that can handle 2 roles. That's great for sparing, as you only have to stock one type of equipment. It also makes training technicians easier, as they only have to learn one piece of hardware and one interface.
Multiple Expansion Options
The NetGuardian DX G4, an existing discrete expansion, provides 48 discrete points and 8 control relays (and up to 3 DX G4 units may be attached to a single NetGuardian 832A G4). The DX G4 is a good choice when you need a lot of control relays.
But if you're looking for more discrete inputs in a single rack unit, the NetGuardian 480 in "DX" mode can be your answer. The NetGuardian 480 means less purchasing, less training, and less required rack space to substantially increase your alarm capacities.
To receive a price quote or ROI analysis...
Call 1-800-693-0351