Monitor NEC Remotes, Muxes, and Switches through an FSK Converter with the NetGuardian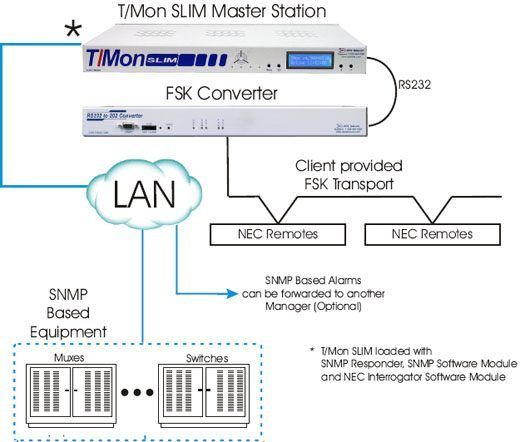 Monitor NEC Remotes, Muxes, and Switches through an FSK Converter with the NetGuardian
Equipment Used:
Muxes
Switches
NEC Remotes
How This Application Works:
This solution will enable you to have a single, reliable central aggregation point that will provide 24-hour alarm notification. Utilizing your existing NEC remotes and specifically the existing FSK backbone, you will be able to replace the current master station with a new and powerful T/Mon SLIM.
The T/Mon SLIM will not only provide monitoring for your existing NEC remotes, but will provide you with the ability to receive SNMP based alarms from existing (and future) Switches and MUXES - or anything else that is able to export a MIB file over IP.
In order to accomplish this solution we have proposed both a hardware and software solution. The hardware takes the form of T/Mon SLIM master station and FSK Hardware converter that will turn the FSK signal into an RS232 signal that would be plugged into the T/Mon SLIM (taking one of the four RS232 ports available).
The master station is typically preloaded with the software modules. The NEC Interrogator Software Module will allow the master station to receive NEC21SV protocol. In addition we have included the SNMP Trap Processor that will allow the master station to receive SNMP traps and report those alarms to your central office. In addition, the SNMP responder will allow the T/Mon SLIM to send out SNMP alarm notifications to other elements.
The T/Mon SLIM is 1 RU unit that fits into any 19" or 23" rack, in any telco environment. Dual -48 VDC power inputs allow T/Mon SLIM to be powered from the same battery power as the rest of your equipment - and give you a backup power supply in case of primary power failure.
The NEC21SV Interrogator Software Module will enable the T/Mon SLIM the ability to collect alarms on multiple ports using the NEC21SV protocol. Support includes Alarms and Controls.
The SNMP Trap Processor Software Module will give your T/Mon SLIM the ability to receive SNMP traps from network elements and convert them to standardized T/Mon alarms so you will be able to view them. This will result in a very powerful SNMP manager because not only will your T/Mon be able to accept DCPx from DPS remotes, you will be able to monitor your other SNMP devices as well. This software module will support V1 as well as V2 devices and is very simple to use. Simply compile the MIB onto the T/Mon SLIM, select the rules for how you want to see those alarms and you've integrated those into the system.