RTUs provide dependable network monitoring.
SCADA Systems
RTUs are an integral part of supervisory control and data acquisition systems, or SCADA. SCADA is a monitoring and control system that is integral to many industries including power utilities, and manufacturing. SCADA is all about process control and information gathering. This ensures that a site manager has all the information they need. You can read more about SCADA here.
Get to Know More about RTUs
Now that you know what RTUs are and what they actually do, you might be curious about their specific capabilities and how you can select the perfect-fit unit for your scenario.
If so, you can always talk to one of our application engineers as well. They are experts in remote monitoring and can direct you to the best option for your network - no commitment required. So, give us a call today and learn more about RTUs and how they can benefit you.
How to Get an RTU for Evaluation & Testing
If you want to test out an RTU in your lab or at one of your remote sites, you'll need to get a free evaluation unit from a manufacturer. There are 3 primary ways to do this...
by Andrew Erickson on March 5, 2019
Read Full Article
How to Choose an RTU - Top 3 Considerations You Need to Think About
You've decided it's time to buy an RTU to monitor your remote sites, but how do you decide which model is the best fit? Today, we're going to look at the top 3 things you need to think about when you're choosing an RTU...
by Andrew Erickson on February 11, 2019
Read Full Article
---
Get a Custom Application Diagram of Your Perfect-Fit Monitoring System
There is no other network on the planet that is exactly like yours. For that reason, you need to build a monitoring system that's the right fit for you.
"Buying more than you need" and "buying less than you need" are real risks. You also have to think about training, tech support, and upgrade availability.
Send me a quick online message about what you're trying to accomplish. I'll work with you to build a custom PDF application diagram that's a perfect fit for your network.
---
Make an Informed Decision
Your network isn't off-the-shelf.
Your monitoring system shouldn't be, either.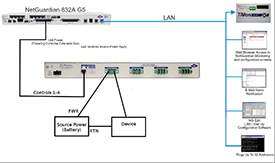 We'll walk you through this with a customized monitoring diagram.
Just tell us what you're trying to accomplish with remote monitoring.
Get a Custom Diagram