12/24 Power Supply converts -48 VDC power into 6 ports of +12 VDC and 6 ports of +24 VDC.
Don't rely on flimsy AC adaptors and commercial power for the equipment at your site. Use your existing -48 VDC power plant to power your +12 and +24V equipment.
The 12/24 Power Supply from DPS Telecom provides power to six +12V outputs and an optional six +24V outputs. There's a separate fuse for both inputs and one for every two outputs, ensuring that if a fuse blows, it won't interrupt function of other equipment connected to the power supply.
The unit's dual power inputs ensure you won't have to worry about a power failure knocking out your site's sensors. If a single -48 VDC power source fails, your equipment connected to the 12/24 Power Supply won't.
Use your analog sensors and other, lower power equipment on -48 VDC
Available in +12V only model or with both +12V and +24V outputs, to fit your needs
Works in common or isolated bonding networks
Optional fuse alarm relay can be used to set an alarm if a fuse blows, providing remote visibility on your power supply
Fuse alarm LEDs visibly alert you to power problems
Easily accessible fuses allow for quick setup and repair if you ever blow a fuse
Rack or wall mountable, fits in-line with your equipment
Full Specs

12/24 Power Supply back panel with 6 +12V outputs and 6 +24V outputs.
Full Specifications
Dimensions:
1.7"H x 17.0"W x 7.1"D.
Weight:
3 lbs.
Mounting:
19" or 23" rack or wall mount.
Power Input:
-48 VDC.
Current Draw:
5 Amps max.
Fuses:
5 Amp GMT for power input
1 Amp for +12 or +24V power output.
Visual Interface:
8 Front Panel LEDs.
3 Back Panel LEDs.
Operating Temperature:
32 to 140 degrees F (0 to 60 degrees C).
Operating Humidity:
0%-95% noncondensing.
RoHS 5 Approved
5/6.
---
Get a Custom Application Diagram of Your Perfect-Fit Monitoring System
There is no other network on the planet that is exactly like yours. For that reason, you need to build a monitoring system that's the right fit for you.
"Buying more than you need" and "buying less than you need" are real risks. You also have to think about training, tech support, and upgrade availability.
Send me a quick online message about what you're trying to accomplish. I'll work with you to build a custom PDF application diagram that's a perfect fit for your network.
---
Make an Informed Decision
Your network isn't off-the-shelf.
Your monitoring system shouldn't be, either.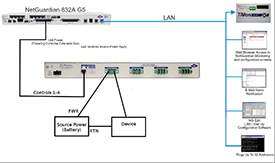 We'll walk you through this with a customized monitoring diagram.
Just tell us what you're trying to accomplish with remote monitoring.
Get a Custom Diagram