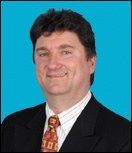 Bob Berry,
President & CEO
Persistence, dedication, and vision are the words colleagues use to describe the personal qualities of Robert A. Berry-qualities that have led Bob from building robots in high school to building a company that is a leader in remote network telemetry.
Bob is the founder and CEO of DPS Telecom, one of the nation's leading developers of integrated network alarm monitoring solutions. The growth of DPS Telecom, from a small consulting firm to an Inc. 500 company, has been through the
guidance of Bob's persistence, dedication and vision.
Growing up in the rural town of Reedley, California, Bob developed an interest in new technology early in life. He began studying electronics in the sixth grade, and he spent his senior year in high school designing and building a computer-controlled, self-navigating robot; a project that won major awards at the Fresno County Science Fair that year.
What makes Bob's youthful accomplishment even more impressive is that he learned everything he knew about electronics on his own. In fact, it wasn't until college that Bob heard the word "schematics," spoken out loud, a word long familiar to him from his reading. He learned, unfortunately, that his own pronunciation, "shemetics," was incorrect.
But more important than Bob's pronunciation was his drive to learn and excel at everything he tried. (Bob's other accomplishment during his senior year was to become an Eagle Scout.) Bob attended U.C. Irvine, where he met Eric Storm, a college-programming partner, who became one of the co-founders of DPS.
Bob left college early to take a job with an electronics company in New Jersey. He returned to California to form a partnership with Eric Storm and Ron Stover. In 1986, the three partners founded Digital Prototype Systems, which later became DPS Telecom.
In its early years, DPS was a consulting firm that produced software prototypes for other companies. DPS formed a strategic alliance with a provider of remote telemetry equipment for companies with communications and data networks