Very few people truly grasp the vast network that keeps the world running. People rarely see the endless telecom towers that keep us connected, each data center that supports them, or the seamlessly-connected utilities that keep our electricity flowing and water running. They don't see it, but they rely on it to run without question.
If you're in charge of a network of information technology that keeps the world moving, you know the pressure to understand everything in your network. That means you also understand the need for a remote infrastructure monitoring strategy that gives you the right information to act intelligently.
Having a solid strategy for systems integrity (and cost savings) is vital to your company's business goals.
This remote infrastructure monitoring and management strategy must include having the best technology, the most cost-effective networking system, and customized support to make it work for your needs.
Your remote infrastructure monitoring strategy is how you make that vast network small and manageable. It lets you display it on one screen. It creates an information source that people like you can rely on.
Your Remote Infrastructure Monitoring Strategy
When coming up with a strategy, you need to consider a few things:
What do I need to monitor?
What equipment do I need to use?
Are there actions I need the remote monitoring system to take?
What measurable results am I expecting?
What's the best way to get a remote infrastructure monitoring system into place?
Understanding all of these can help you set in place an effective strategy and find a partner who can answer all your questions.
What Do I Need To Monitor?
The first step is doing a thorough analysis of your network, your overall system, and your technology. Some of the primary things that companies like telecoms, utilities, and others with remote sites are monitoring include:
Network equipment
Radars
Radio transmitters
Power sources
Rectifiers
Environmental factors
Security concerns
This might seem like a hodgepodge, but they are all connected. After all, having your network equipment fail is bad. It might happen because of a power surge, a spike in humidity, a vandal, or something else. So you want to monitor both the items themselves and the factors that could impact the items.
Doing all of this can help you prevent any problems. If you notice a rise in humidity, you can take action to prevent a breakdown. If you have security issues, you can automatically notify first responders. A full and thorough evaluation of all your system needs is the best way to make sure that you have full coverage and that you don't buy excessive equipment.
Other aspects to take into account include the age of your equipment and the languages used by your existing communication equipment. The cost of upgrading is something you need to consider when looking to buy remote monitoring equipment.
What Equipment Do I Need To Use?
Before you even think about top-level management services or cloud services, you need your "boots on the ground". What infrastructure monitoring equipment will you physically have at your sites?
There are two primary kinds of top hardware monitoring tools for your remote sites.
RTUs. Remote Telemetry Units have attached physical sensors to monitor equipment and conditions at your remote location. These can be used to monitor all the elements we described above and can be customized according to your needs.

RTUs like this NetGuardian 832A will monitor important levels at your remote facility.
RTUs don't just measure temperatures; they send alarms if temperatures reach over a threshold you pre-determined to be dangerous. These are essentially the eyes and the ears (and nose!) of your operation.
Master stations. Master stations are the brains at the center of the network. They present the information and alarms from different types of equipment, prioritizing them on a central computer screen for your management to view. You can be alerted via email or text when something goes wrong.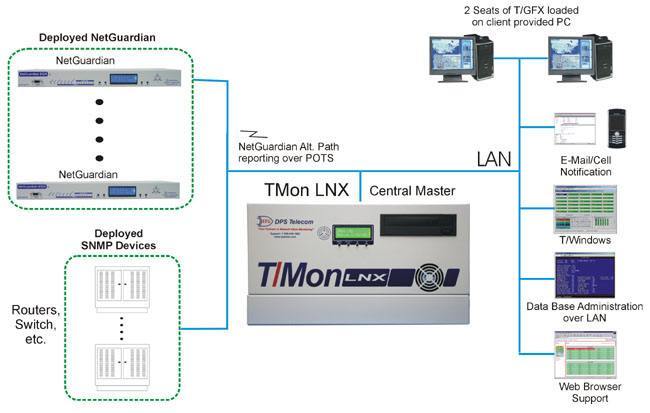 Master stations like this T/Mon collect alarms from RTUs and important remote infrastructure.
There are a few exceptions to the master station rule. Some people find that you don't need one if you have fewer than 10 stations; you can just get direct emails if something happens. But every additional station means more information, which you'll be responsible for prioritizing on the fly. It's important to understand not just your system, but the capacity of your personnel.
When selecting equipment, you'll want to make sure you have a master station that can translate any legacy equipment. You might not have the budget to overhaul your entire system all at once, so in order to leave no station behind, you need an intelligent machine that understands multiple protocols. That's critical.
Other remote site best practices related to equipment include choosing durability over price and getting equipment that is easy to use. Having things break down or malfunction doesn't help you hit your primary goals of solving problems and saving money.
What Do I Need It to Do?
Here's where your system lines up with your equipment. When you are looking to set up a system, you'll want to correlate everything that can go wrong with every action it takes to rectify it. That means you'll have to do a comprehensive survey of everything you want to happen from your system. This can include:
All electrical, environmental, digital, and physical concerns
A priority list for different alarms
Strategies for notifications
This list may only include a few areas, but these concerns are actually very complex. Customizing remote infrastructure monitoring to automatically produce alarms will help.
There are ways to maximize uptime by automating responses without human involvement, but that's not always the case. Sometimes, the fire department has to be involved. Sometimes you need to send people to the site to fix it.
That's why prioritizing alarms matters. You don't want people going to a remote site for no reason. You want to minimize windshield time and maximize efficiency. That's vital to capturing real ROI on a project.
What Measurable Results Am I Expecting?
One result you are probably expecting is "peace of mind." Maybe "a better night's sleep," too! But those aren't really measurable (okay, maybe the second one is). What you are going to be looking for are key performance indicators that let you know if this is a good investment.
Some of these include:
Fewer needless inspections
Saving man-hours on needless or redundant visits
Establishing more efficient maintenance procedures
Better use of automation
Creating more efficient emergency response; saving time and money
Those are some of the key performance indicators (KPIs). But the main ones are the most-easily measurable, and the most obvious to you, to regulators, managers, shareholders, and even the public:
Prevent equipment loss
Prevent downtime
Eliminate outages
Reduce penalties
You want 100% uptime. You'll want to avoid bad press. You need a resilient system that quickly justifies its cost. So how do you get it?
What's the Best Way to Meet My Goals?
You have a strategy and probably have set goals. You have KPIs and ROI to be concerned about. So how do you make it happen?
The primary thing you need to do is find a partner you can trust. You want one with experience, who understands your needs, knows your industry, and has the equipment to set up a system you can depend on.
Here are a few more areas to consider when looking for a partner:
Do they offer custom solutions? You need the right equipment for your particular system with the appropriate attached sensors to monitor equipment conditions. It's helpful to work with a company that will help you to find a solution for your network, your needs, and your budget.
Do they have great customer support service? There are going to be times when you have someone at a tower on some windswept nowhere. You really need someone who will respond when you require help.
Will the provider be with you through implementation? Real-time remote infrastructure monitoring can be complicated. You have to think about operating systems, servers (support for any software you'll be running), a databases server (if required), and more. A partner who helps you set up your system to maximize success (whether you use traditional appliances, a private cloud, or anything else) already sets you down the fast-track to ROI recovery.
Will they offer training? Are you working with experts who can troubleshoot, offer training support, training materials, and introduce meaningful upgrades? That's what training and technical support can do.
Is your provider going to be around when you need them? The problem with using a cheap solution from a fly-by-night company is that they might be gone soon, probably after your stuff breaks. What you want is a company that creates products that last, is always coming up with upgrades and will be there anytime you need to update your system. You want someone who will help you grow.
Ultimately, what your strategy boils down to is: how do I keep my system running? That means smart equipment, flexible solutions, custom plans, and a partner who can make it happen. It means teamwork.
Teamwork requires working together to create a remote infrastructure monitoring system you - and everyone who is relying on you - can rely on, too.
DPS Telecom has the experience and expertise to help companies implement effective remote infrastructure monitoring strategies. Our technicians can work with you to install RTUs with easy-to-use interfaces for more automatic responses. Reach out and get a quote today!
Image courtesy Shutterstock