"Are Your Sites Growing Beyond Capacity? This New SNMPv3 RTU Offers 64 Additional Discrete Alarm Inputs..."

Mazimize The Capacity Of Your NetGuardian 864A G5...
Is your network growing faster than you can manage? Do you have enough reliable alarm points to monitor your valuable, revenue-generating equipment? You've already got a NetGuardian 864A, but are you still running out of available discrete alarms?
What if you could use your existing equipment to help manage your growing network? Imagine if you could simply expand the capacity of the RTU you already have, and make it work all your new sites. What if you could double, triple, or even quadruple your alarm-monitoring capacity, without any complicated installations. You'd want to know how this is possible, right?
Introducing the new NetGuardian DX 64
The NetGuardian DX 64 expansion unit doubles, triples, or quadruples the capacity of your NetGuardian 864A by offering 64 more SNMP points per chassis. This low-cost, self-contained device makes the expansion process much simpler. Using its dual RS232 ports, up to 3 NetGuardian DX 64 units can be daisy-chained to the 864A giving you a total of 256 SNMP v3 points. This is more than enough for your larger sites. This expansion makes growing with your network easy and hassle-free!
Advantages of the NetGuardian DX 64
of expansion to existing NetGuardian 864A units
over existing communication lines
by reporting more alarms to the same address
per expansion
for easy daisy-chaining between units
of alarms and communications status
equipment
as your network grows
Call the DPS Telecom today at 1-800-693-0351 to see how the NetGuardian DX 64 will streamline your expansion process.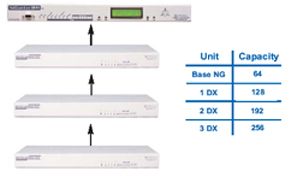 Up To 3 NetGuardian DX 64 Units Can Be Daisy-Chained Together...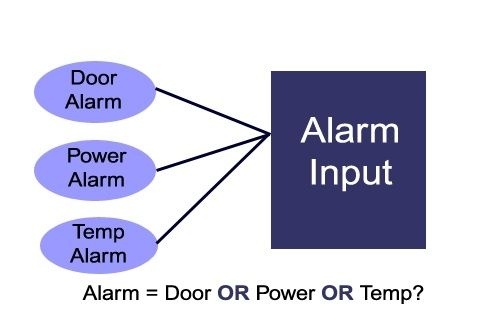 Don't Lose Visibility by OR-ing Your Many Alarms Into A Single Alarm Input...