Phone:
Email:
Send Me Pricing
Info For:
Your privacy is important to us. We don't sell your information to any other company. We only contact you to send you DPS pricing and product information.
If you have got a network monitoring problem, DPS Telecom can help. Using our broad product line, we create perfect-fit solutions for your network. If you still need a better fit, we can engineer a new product made to your specifications - backed by the best client support in the industry. DPS Telecom was founded in 1986 by engineers to meet the needs of engineers and technical managers who implement network alarm management systems in enterprise networks. Our company is built on an engineering philosophy of rapid, customized design of perfect fit solutions built to your exact specifications. At DPS Telecom, we see ourselves as your partner in securing your network. We will never leave you with a monitoring problem unsolved. We will always put your needs first.
---
Get a Custom Application Diagram of Your Perfect-Fit Monitoring System
There is no other network on the planet that is exactly like yours. For that reason, you need to build a monitoring system that's the right fit for you.
"Buying more than you need" and "buying less than you need" are real risks. You also have to think about training, tech support, and upgrade availability.
Send me a quick online message about what you're trying to accomplish. I'll work with you to build a custom PDF application diagram that's a perfect fit for your network.
---
Make an Informed Decision
Your network isn't off-the-shelf.
Your monitoring system shouldn't be, either.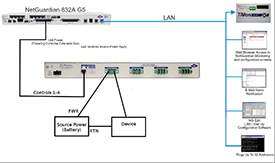 We'll walk you through this with a customized monitoring diagram.
Just tell us what you're trying to accomplish with remote monitoring.
Get a Custom Diagram