"DPS Demonstrates its Committment to High Quality with ISO 9001:2000 Certification..."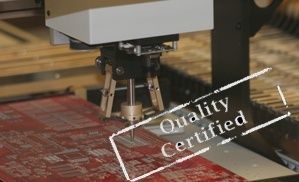 Taking Quality to a Higher Level...
Do your vendors have their best practices nailed down to ensure you get quality products and services every time? Do they have an organized system in place to keep records of all their processes in order to achieve continuous improvement? Imagine if your vendors had an internationally-recognized seal of approval that proved their commitment to serving your needs.
DPS Telecom is ISO 9001:2000 certified. With the whole company involved in the certification process, every key process at DPS is documented and analyzed, in order to achieve continuous improvement. "Our transition to ISO was very smooth, because we already had extensive quality procedures in place," said Rosa Maravilla, Human Resources Manager at DPS. Another branch of this continuous improvement is to implement client satisfaction surveys. The goal for DPS is to gauge client feedback directly from the source, and use that information to provide even better service. If you're a DPS client, keep an eye out for your survey.
Along with enhanced quality management, DPS is also proud to announce a new system for tracking product serial numbers. The system will help DPS track and correct any problems, especially for those that enjoy the benefits of DPS maintenance agreements. "We're pleased to be IS0 9001:2000 certified," said Marshall DenHartog, DPS Executive Vice President. "We're excited that we've achieved certification while maintaining our agility and flexibility for our clients."
ISO 9001:2001 Certification at DPS is Ensuring You Quality Every Time By:
Call DPS Telecom today at 1-800-693-0351 to learn more about our commitment to total customer satisfaction. Keep an eye on your inbox for your customer satisfaction survey. Tell us what you think!