These notifications provide up-to-the-minute visibility of your equipment network. This increases your network uptime and reduces customer churn. With alarm information immediately available your monitoring and field technicians, you should experience faster problem resolution and service restoration.
An Advanced DNP3 Master will Support Multiple Protocols
An advanced DNP3 master will also support a number of open and proprietary legacy protocols, allowing you to combine your DNP3 events with your other alarms. By bringing all of your events into a single master, you will reduce labor, equipment, and other overhead costs associated with operating single masters. You also greatly reduce the risk of missing an important alarm while juggling different windows or workstations.
The most advanced DNP3 master will enable you to convert your DNP3 alarms into common protocols such as SNMP, to forward alarms to a Master of Masters (MoM).
T/Mon LNX DNP3 Master Saves You from Deploying Multiple Monitoring Systems
T/Mon LNX is an advanced DNP3 master that can provide you with comprehensive SCADA visibility. T/Mon LNX is a multi-protocol master, and can monitor your other protocols in addition to DNP3, saving you from deploying multiple expensive monitoring masters. Using multi-protocol support, you can bring all of your alarms into the T/Mon convenient, single window view.
T/Mon will provide you with alarm details including location and repair information, all through email, cell phone, or pager. You can also forward your DNP3 alarms as SNMP to a MoM. This will assist your technicians in getting your SCADA operations running normally as quickly as possible, reducing revenue loss due to network downtime. With a more reliable network, you will also keep your client base happy, reducing your customer churn.
Deploy a T/Mon LNX and Increase Your Network Reliability
Your DNP3 master is critically important for monitoring your important SCADA operations. You need the most advanced gear available to give you the SCADA site visibility you need. A T/Mon LNX with a DNP3 software module is the answer to your SCADA monitoring needs. Increase your network reliability and customer satisfaction today and deploy a T/Mon LNX.



Download the SCADA White Paper
---
Get a Custom Application Diagram of Your Perfect-Fit Monitoring System
There is no other network on the planet that is exactly like yours. For that reason, you need to build a monitoring system that's the right fit for you.
"Buying more than you need" and "buying less than you need" are real risks. You also have to think about training, tech support, and upgrade availability.
Send me a quick online message about what you're trying to accomplish. I'll work with you to build a custom PDF application diagram that's a perfect fit for your network.
---
Make an Informed Decision
Your network isn't off-the-shelf.
Your monitoring system shouldn't be, either.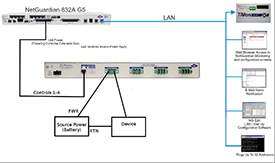 We'll walk you through this with a customized monitoring diagram.
Just tell us what you're trying to accomplish with remote monitoring.
Get a Custom Diagram