Siskiyou Telephone Monitors Bear, Bird, and Wildfire Threats with T/Mon
Siskiyou Telephone is a family-run business that has been proudly serving Western Siskiyou County for over 125 years. They now have 7 telephone exchanges in the county, and offer internet packages and long distance calling plans to their customers as well.
August and Henry Dannenbrink founded the Siskiyou Telephone Company in 1896 after their father immigrated to Weaverville, CA from Hanover, Germany. Well over a century later, Siskiyou Telephone remains in the Dannenbrink family lines.
Albert Elam is a CO Tech for Siskiyou Telephone. He does CO work, acts as a backup installer, and also works in the main office, monitoring network health.
Mike Lytken is Siskiyou Telephone's new Microwave Technician. His job often involves mountaintop site visits and working with generators.
Rugged terrain and adverse weather make remote sites and fiber runs difficult to access
Siskiyou Telephone faces the challenges of repairing cabinets and fibers with up to 8 miles between them. Their cabinets and lines are located on hillsides and rugged terrain. Locating and accessing a site for repair can be difficult and extremely inconvenient. "It's time-consuming, from where our central offices are. It's an hour and a half to two hours just to get to the site and then begin to troubleshoot from there," Lytken told us.

Siskiyou Telephone views discrete alarm points on their T/Mon interface.
In the winter, it's an even greater inconvenience to reach the snowed-in sites and find buried fiber runs. "It can be all day. It depends on how much snow you have to push," Elam added. For this reason, remote monitoring equipment has been integral in preventing unnecessary site visits. Alarms from one of their T/Mon monitoring devices would alert Siskiyou Telephone of any fiber faults, so their technicians could immediately go out with a handheld OTDR to find and repair the fault. They have the T/Mon sending text-message-based notifications after hours. In addition, if alarms are not acknowledged by the team after 15 minutes, their T/Mon is programmed to escalate alarms to a text message during daytime working hours.
"The T/Mon lets us know when a certain site is down," -Albert Elam, Siskiyou Telephone

The catastrophic McKinney fire burned a large area of Northern California.
T/Mon was a lifesaver for Siskiyou Telephone during the McKinney wildfire
The catastrophic McKinney wildfire, which started in July of this year and was fully contained in the beginning of October, burned an area of over 60,000 acres in the Klamath River area. Thankfully, recent rain and snowfall have all but put out what remains of the fire by now, but it did cause some outages for Siskiyou Telephone.
The fire caused so much damage to Siskiyou Telephone's equipment that they have since laid temporary ground cables. These are even more susceptible to faults than aerial or buried fiber runs. It's even more critical with these vulnerable temporary cables and active fires to have reliable monitoring. "Well, if we lose connection to a certain site, the T/Mon lets us know when a certain site is down," said Elam. "We get a lot of alarms out of our C15 switches, low battery alarms, ping fail alarms, the whole network, really. Everything's alarm-based," he added. The T/Mon has allowed Siskiyou Telephone to maintain reliable monitoring of critical equipment, which is especially vital during wildfire season.
"As bears and things have chewed on it, we've made access points with maps and enclosures so we can actually plug in our OTDR from there and get a little narrowed-down footage." -Mike Lytken, Siskiyou Telephone
Pesky local wildlife causes damage to Siskiyou Telephone's fiber runs
Being in the more remote wooded region of Northern California, Siskiyou County is home to plenty of wild animals. Unfortunately, as Elam recalled, they tend to tamper with the telephone lines. CO tech Elam had an interesting story to share about the mischief of the regional wildlife they discovered while responding to an alarm:
He described how two members of the team discovered damage to one of their cables from a surprising culprit: bears. "They started trekking around the hillside, and they ended up finding bear chew marks," he said. They thought they had identified the source of the fault, but after repairing the one broken fiber strand, they found that the problem was worse than expected.
Mike Lytken added, "We found this pretty severe chew spot, and thought we were heroes and saving the day and put it back together... there was one broken fiber strand in there."

Even the most unassuming creatures can be the source of a large threat to your telecom system. Remote monitoring is the only way to identify a problem and location right away.
The real problem turned out not to be the bear chewing, but a fallen telephone pole. "The pole had been so damaged by woodpeckers," Elam said, and the integrity of the pole was compromised. The pole split. "It bent our risers and kinked the main fiber. That's why it actually went down..."
"I like the GFX part of it, putting a map on there." -Albert Elam
Siskiyou Telephone plans to further improve monitoring interface with T/Mon GFX and trouble logs
Mike expressed his plans to put the trouble logs feature in T/Mon to good use moving forward. "To put the updated notes in there as to what it took to repair a site, or just even adding pictures and things to that nature, that would be super helpful for the next guy." Recording notes against an alarm point is a useful feature that allows users to view updates and logs of what changes have been made and how problems have been solved for future reference.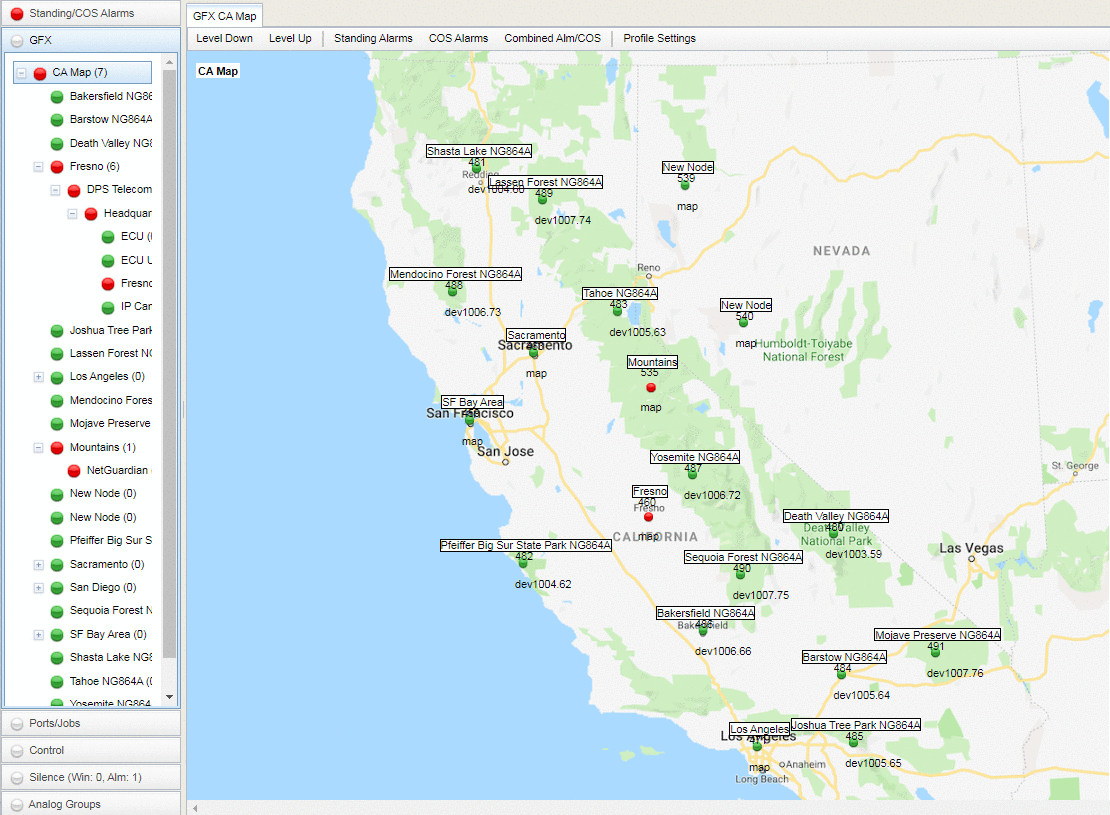 T/Mon GFX allows you to set up a visual interactive interface for monitoring your alarms.
Another T/Mon feature that Siskiyou Telephone plans to take advantage of is the geographic map display, which makes it easy to see exactly where alarms are located. "I like the GFX part of it, putting a map on there," said Elam, after recently learning about the graphics capabilities of the T/Mon display. "Cause I like visual, and right now it's just the text display." It is easy to set up GFX on the T/Mon, and having visual indicators in addition to the text screen should save time sending technicians out to the right location.
Siskiyou Telephone has trusted DPS to provide the gear to monitor their assets through routine and extraordinary threats. Give us a call at 1-800-693-0351 to discuss how we can get you set up with a reliable customized network monitoring system, too.

Haley Zeigler
Haley is a Technical Marketing Writer at DPS Telecom. She works closely alongside the Sales and Marketing teams, as well as DPS engineers, resulting in a broad understanding of DPS products, clients, and the network monitoring industry.