Report Alarms as SNMP Traps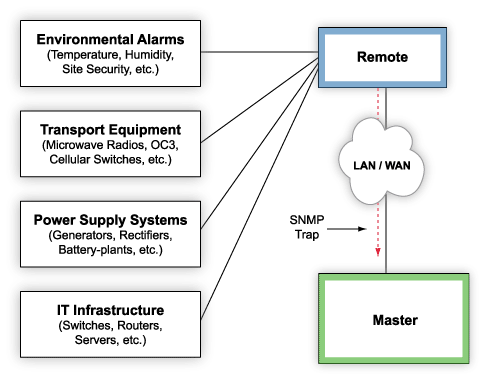 Monitor All Your Alarms, Including Discretes and Environmentals, With Your SNMP Manager
Most of your network runs SNMP, so you want to monitor all your alarms with your SNMP manager. That makes a lot of sense, because there are many advantages to consolidating your monitoring on a single platform.
But not everything on your network is native SNMP. You also need to monitor discrete alarms and analog alarms to really see what's going on at your remote sites. How can you monitor these alarms without using a second management system?
The answer is a remote telemetry unit that collects discrete and analog alarms and sends them as SNMP traps to your SNMP manager. This advanced remote will fully capture discrete and analog alarm data, including severity, location, date/time, and live analog values, and send detailed information in the trap packet.
This will give you full visibility of equipment failures and environmental conditions at your remote site that can result in network downtime. And you'll get this visibility without the expense of maintaining a specialized network monitoring system to monitor only these alarms.
The Cost Savings of a Multiprotocol Master
When you are integrating a wide variety of remote telemetry devices, including SNMP and legacy protocols, the ideal solution is to integrate all your monitoring into a single multiprotocol monitoring platform, for several reasons.
Using a single interface for all your monitoring applications will:
Create substantial savings in initial expenditure, operational, and maintenance costs
Save your investment in legacy protocol devices
Give you a smooth transition to advanced telemetry capabilities
Allow you to spread network equipment upgrade costs over several budget cycles, since both old and new equipment types are supported by the multiprotocol master.
Products that do this: T/Mon LNX
Free, No-Risk Engineering Development to Integrate Legacy Devices and Protocols
While DPS Telecom supports over 15 protocols, you may need to use a protocol that we don't currently support. That's no problem - we can add support for the protocol you need, at no expense, risk, or obligation to you.

top
---