Convert Contact Closures to SNMP Traps with the RAB 176N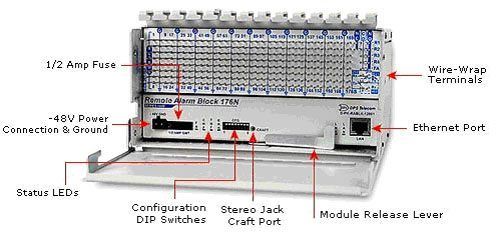 With the Remote Alarm Block 176N, you can get SNMP Traps straight from your MDF without costly and unnecessary wiring
Ordinarily, if you want to get SNMP Traps from your Main Distribution Frame, you're looking at hours of work and a hefty price in technicians' time and overtime pay.
First you've got to collect all the wires at your Main Distribution Frame and tie them down to a terminal block. Then you've got to cross connect the wires from the terminal block to an SNMP RTU - and that means running the wires over an equipment ladder and sewing them down.
It takes a lot of time. And your time is money.
But what if you could cut out the unnecessary steps?
Remote Alarm Block 176N: Terminal Block Connections in an SNMP RTU
That's the thinking behind the Remote Alarm Block 176N. It's a remote alarm block and SNMP RTU in one unit. The RAB installs right in your Main Distribution Frame. Tie all the wires to the RAB - and the only thing you've got going out is a nice, clean Ethernet cable, straight to your LAN and your SNMP manager.
Think of the time you'll save. Think of the labor costs you'll save.
Plus you'll mediate 176 contact closures to SNMP Traps - with no compromises.
Large Alarm Capacity, Small Size
The Remote Alarm Block 176N provides 176 discrete alarm inputs, 4 controls and a highly compact (4"H x 8"W x 5"D) MDF or wall-mount chassis. Providing enough capacity to monitor an entire site, the RAB 176 remotes are perfect for any site with lots of equipment and not much space.
Now we've added the new RAB 176N (for network), with support for SNMP, TL1, and DCP(f/x) over LAN.
Network connectivity adds several new advantages to this powerful remote unit:
You can deploy the RAB 176N anywhere a LAN/WAN connection is available, eliminating the need for dedicated circuits and saving you money.
You can mediate discretes to SNMP Traps without the time, trouble, and expense of a separate terminal block and RTU.
There's no need to buy a new, specialized master to monitor the RAB 176N. Versatile multiprotocol support lets you connect the RAB 176N directly to your existing SNMP manager, TL1 master, or T/Mon NOC Remote Alarm Monitoring System
The RAB 176N supports TCP transport for robust error recovery, as well as UDP transport for light use of network resources.
Easy Installation without Removing Ultra-Durable Wire Wrap Connections
Wire wrap connections provide the strongest protection for your connection wiring. With the RAB 176N smart brain card, you won't have to compromise this durability for easy installation. Where other devices require operators to remove these wire wrap connections to adjust or install the device, the DPS smart brain card simply slides off of the front of the RAB 176N, allowing users to easily adjust wiring without removing wire wrap connections.
Smooth Migration to LAN
The RAB 176N also supports DCP(f/x) over RS-232 and RS-485, providing you a smooth migration path from serial transport to LAN transport. You can deploy the RAB 176N at sites without a LAN connection now, and when LAN access is added to the site, the unit can be switched to LAN transport with a simple change in provisioning. And you won't have to disconnect any of your alarms.
With free lifetime firmware upgrade, you'll be able to maximize your monitoring system's performance. As years pass, you will know your network is secured with the most advanced versions of all of visibility-enhancing DPS software programs. This service is provided to all DPS clients at no charge, to demonstrate to their clients their continued dedication to superior technical support.M
Other Benefits
The RAB 176N offers you a lot more, like selectable alarm qualification times, trouble-free installation and configuration, free lifetime firmware upgrades, and easy hardware replacement without removing wire wrap connections.
Plus there's a real-time clock that saves settings up to 10 years and a debug terminal that works over your IP network.
Get a Free Web Demo of the RAB 176N
You can get a free web demo of the RAB 176N at the DPS Telecom website. A DPS Web Demo will give you a real sense of how to operate our products, enabling you to see how easily you can improve your network visibility with the RAB 176N
Need to gain visibility of non-standard alarm signals? Try the Alarm Point Conditioner.
To receive a price quote or ROI analysis...
Call 1-800-693-0351