Affordable ASCII Alarm Monitoring For Any Site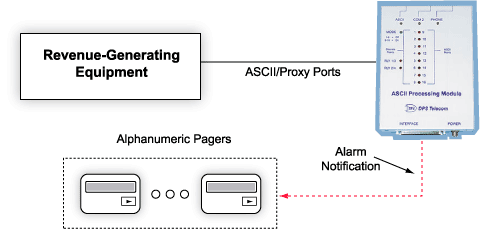 ASCII Alarms Direct From the Site to Your Pager
The ASCII Processing Module (APM) 48 can be installed at any site to provide immediate on-site processing of ASCII alarms. With 8 ASCII-activated alarm points, 8 discrete alarm inputs, and four control outputs, the AMP 48 is just right for remote cell sites and small offices.
All the capability you need to extract, decod process, and forward ASCII alarms is contained in this one slimline unit. With no other equipment needed, you can use the APM 48 to immediately transmit alarms directly from on-site ASCII equipment to numeric and alphanumeric pagers.
Stand-Alone Monitoring or Integrate with T/MonXM
The APM can be monitored and operated entirely by telephone, or you can manage it from the T/MonXM network alarm management system.
Alphanumeric pager notifications from the APM 48 include extracts from ASCII alarm messages, giving detailed and complete information about the alarm directly to the technicians who can correct problems.
A Complete One-Box Monitoring Solution for All Your Remote Site Alarms
The APM also provides instant stand-alone monitoring of other alarms at your site. Its 8 discrete alarm inputs can monitor equipment failures, doors, windows, and smoke and sprinkler pressure alarms.
The APM's four control relays let you operate remote site equipment from any telephone. You can contact the APM from any tone dialing telephone and, by password identification, activate remote devices like door locks or security lights. The APM's control relays can also be activated by user-derived combinations of alarms.