Analyze and Process Alarm Data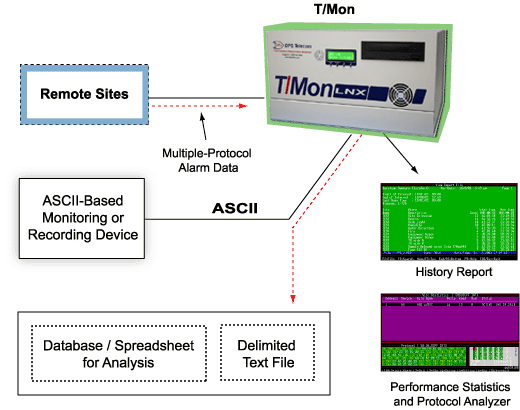 The T/Mon NOC lets you do more with your alarm data, supporting several applications for processing and analyzing information from your network.
Alarm Forwarding for After-Hours Monitoring
You can't have human beings in your NOC watching your monitoring screens 24 hours a day, 365 days a year. But network threats can happen at any time. How do you track network problems when the NOC staff is away? ASCII alarm forwarding provides an ideal way of monitoring network activity when the NOC is unmanned. The T/Mon NOC can output alarm data to any ASCII-based monitoring or recording device.
Alarm Data Analysis
Alarm data contains a wealth of information about what's going on in your network. Analysis of your alarm data can tell you where, when, and under what conditions network problems usually occur, identify network usage trends, and help you anticipate and prevent future network problems.
TheT/Mon NOC can record up to 999,999 system events, including alarms, control operations, alarm acknowledgements, internal alarms, and user activity. History reports can be generated for points, sites, and alarm windows in a variety of formats. You can also export alarm history information as a delimited text file. The alarm information in the text file can then be imported into a database or spreadsheet, and from there you can graph or tabulate it for analysis.
Diagnose communication problems
The T/Mon NOC's monitoring functions includes integrated tools for examining communications traffic. You can monitor polling to remotes, take devices online or offline, and analyze communications in ASCII, hexadecimal, or even plain English directly from any monitoring screen. You can manage communications with your remotes without bulky additional equipment, and alarm monitoring continues uninterrupted.