Simplicity and convenience: Ack or tag alarms from a touch-tone phone with the T/Mon DTMF/Voice Interface

Acknowledge or tag alarms with just a phone call! The new T/Mon DTMF/Voice Interface makes any touch-tone phone a remote terminal for contacting your T/Mon NOC.

The DTMF/Voice Interface, combined with the T/Mon DTMF On-Call Software Module, provide an easy touch-tone interface to T/Mon NOC. It's the ideal way for field techs to stay in touch with the central office automatically.

Immediate and simple:
Ack one or all standing alarms, identified by the ID number from your pager notification.
Ack or Tag a Single or All Alarms via Telephone
Here's how the DTMF/Voice Interface works. Let's say a technician in the field receives an alarm on his pager. The page contains an eight-digit ID number that uniquely identifies the alarm.
Using a touch-tone phone to dial the T/Mon DTMF/Voice Interface, the technician can acknowledge one or all COS alarms, or he can tag an alarm to temporarily silence it.
Easy Installation and No Databasing Required
The T/Mon DTMF/Voice Interface connects to a standard POTS line. The T/Mon DTMF/Voice Interface's compact design makes it easy to install in either 19" or 23" equipment racks, while saving valuable rack space for other revenue-making equipment.
The DTMF On-Call Software Module provides easy plug-and-play integration with the T/Mon DTMF / Voice Interface and T/Mon NOC - no extra databasing required.
The T/Mon DTMF/Voice Interface is backed by a two-year warranty, top-rated DPS Telecom tech support, and a 30-day, no-risk guarantee.
---
T/Mon NOC will give you better visibility and control over your entire network. Monitor ASCII and 20 other protocols on one screen. T/Mon's standard pager and email alerts, easy-to-use Web interface, nuisance alarm filtering and multiple remote access options will make your alarm data more useful - reducing both windshield time and the threat of service outages.

See Full Specifications of the T/Mon NOC Remote Alarm Monitoring System
---
Get a Custom Application Diagram of Your Perfect-Fit Monitoring System
There is no other network on the planet that is exactly like yours. For that reason, you need to build a monitoring system that's the right fit for you.
"Buying more than you need" and "buying less than you need" are real risks. You also have to think about training, tech support, and upgrade availability.
Send me a quick online message about what you're trying to accomplish. I'll work with you to build a custom PDF application diagram that's a perfect fit for your network.
---
Make an Informed Decision
Your network isn't off-the-shelf.
Your monitoring system shouldn't be, either.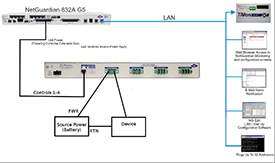 We'll walk you through this with a customized monitoring diagram.
Just tell us what you're trying to accomplish with remote monitoring.
Get a Custom Diagram