"DPS Announces the Release of Upgrade - T/MonXM 6.5..."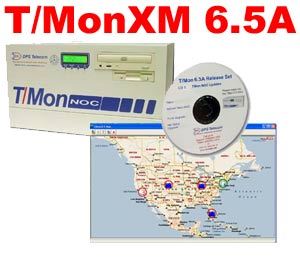 This Upgrade Will Make Your
Alarm Master Even More Powerful...
If you're an SNMP power user, just wait and see what's in store with T/MonXM 6.5A. You already know that SNMP offers the robust message delivery you need to receive alarms from your equipment, such as the Cisco 15454, Cisco 3560, and MetaSwitch. It's a great benefit - and the less alarm databasing you have to do, the better.
With this powerful upgrade, T/Mon supports AutoSNMP. You'll save days of databasing time by defining a single rule set for handling incoming SNMP traps. This means T/Mon will create a standard alarm point for any incoming SNMP trap - so you don't have to database the alarm before it arrives. You'll also enjoy the enhanced security of SNMPv3 trap processing. This upgrade will be sent to all T/Mon Gold Plan members, and features an impressive array of new features and enhancements for your T/Mon NOC, T/Mon SLIM or IAM-5.
Key Enhancements of T/MonXM 6.5:

Initial support for

AutoSNMP devices

Added support for

SNMPv3 trap processing

Initial support for SNMP Trap Manager GET/GETNEXT integration with SNMP Agent and forwarding to an ASCII Job for processing

Initial support for

T/MonGFX Server and T/MonGFX Pool

. These behave the same as T/MonGFX Responders, but will allow users to connect to the same port on T/Mon. These require a T/MonGFX Responder software module
Initial support for periodic

password updates

for system users. User will be prompted to enter a new password
Added support for max of

1200 windows

with required software module
Added support to

backup & restore

TMonGFX files and software modules when burning to a CD
Attention all T/MonXM amd IAM users: Call DPS Telecom today at 1-800-693-0351 to learn more about upgrading to the advanced T/Mon NOC platform. T/Mon Gold Plan members - keep an eye out for your software upgrade!
Want to see everything that's new on T/MonXM 6.5A? Download this PDF for a list of all enhancements