9 Issues To Avoid When Buying Alarm Masters To Boost Your ROI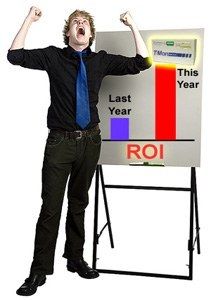 Give Your ROI A Boost With T/Mon.
It goes without saying that the effectiveness of your monitoring system is key, but economics is often a major factor as well. You have to consider both the initial and ongoing cost. Together, they form a critical part of your ROI calculation.
Ask yourself, have you taken all the factors into consideration?
As you read these 9 economic pitfalls, you'll learn how T/Mon helps you avoid them and boost your ROI:
Annual Licensing Fees
You don't have to pay a fee year-after-year to keep using your T/Mon. You bought it. It's yours. Don't accept anything less from any vendor.
Device Licensing Fees
Some manufacturers hit you with a fee for every type of device you want to monitor. If you want to monitor DMS-10 switches and a Cisco 15454, you have to buy a license for both devices. Even worse are per-device licensing schemes. Stumble into one of those and you'll pay an additional fee for each and every device, even if they're exactly the same model. 500 identical remotes will cost you 500 licensing fees. With T/Mon, one software module (like the ASCII or SNMP processors) gives you unlimited processing of a protocol.
"Required" Maintenance Fees
Maintenance agreements can be great. The T/Mon Gold Plan is packed with benefits. But isn't it always better when you can make the choice for yourself? Some vendors tack on a hefty maintenance contract as a required extra fee. With T/Mon, you choose what you buy.
Required Manufacturer Databasing Fees
Manufacturer databasing can also be a handy service. If you want DPS to database your T/Mon for you and import your existing alarm points, you can have that done. But you're not required to pay for that service if you want to build the alarm database yourself. With T/Mon, you're in total control and you can database as you see fit.
Paying For Features You'll Never Use
You should never be forced into buying a big monitoring system when you're never going to use all of it. Plenty of masters come with a long feature list, but they're expensive overkill for your network. T/Mon maximizes your ROI by letting you purchase only what you need. You only pay for the software modules and port interface hardware you'll actually use.
Skimping On Standard Features
T/Mon offers lots of customization options, but it also has base functionality that's rock-solid. Two of the most popular advantages of T/Mon that come standard are pager and email alerts. You also get "plain English" alarm messages, history reports, trouble logs, T/GFX graphical alarm display software, and much more.
Seat Limits For Windows Monitoring Utility
The number of people monitoring a network can vary wildly. Maybe you've got one. Maybe you've got one hundred. But even with just one person, you'll want to monitor from more than one PC. That's why T/Mon's Windows monitoring software, called T/Windows, comes with an infinite-seat license. You can install the software on 1000 PCs if you want to - and you won't pay a dime.
Fees For Technical Support
Some companies force you into a monthly or yearly agreement or charge a per-call fee for tech support. You get free lifetime tech support with each and every DPS Telecom product, including T/Mon.
Investment Risk Without a 30-Day Money-Back Guarantee
Is there really anything better than no risk? You can do your homework before buying a master, but what if it still doesn't work or your boss just doesn't like it? What do you do then? With T/Mon, you're protected by the legendary 30-day no-risk money-back guarantee. This is the ultimate protection for your ROI. Either you get the return you want, or there's no investment. If you're not satisfied with T/Mon for any reason during the first 30 days, just send it back for a 100% refund of the purchase price.
The Bottom Line
Earlier, you asked yourself a question: "Have I considered all the factors when planning my alarm master purchase?"
Now that you have, you can recognize the massive value that you get with T/Mon. You'll enjoy excellent base functionality and massive customization options.
With T/Mon, you'll get results. If you don't, you'll get your money back.
Call 1-800-693-0351 today to learn more.