Monitor AFC Gear over Serial & ASCII with T/Mon SLIM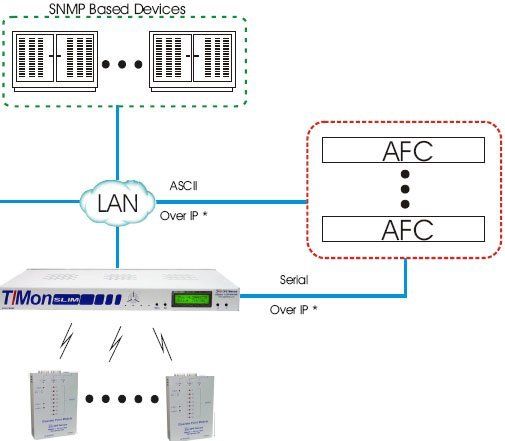 Monitor AFC Gear over Serial & ASCII with T/Mon SLIM
Equipment Used:
AFC Equipment
SNMP-Based Devices
How This Application Works:
we have broken this solution into two options.
Option 1 features the T/Mon SLIM Master Station, that will provide you with a centralized alarm collection point for your Discrete Point Modules. In addition, the T/Mon SLIM provides a platform in which additional devices (protocols) can be monitored. We have a technical overview and an application drawing to help you make the appropriate decision for your monitoring needs.
Option 2 features ASCII and SNMP software, and the T/Mon Gold maintenance agreement for one year. We also included Turn Up and Assistance in this solution as well as an option however, you may want to consider sending some your technicians to our factory training.
We offer this to clients that participate in the maintenance agreement program tuition free.
We'll include all resource material, lunches and dinners. These training classes take place about every 6 weeks, and are 4 full days of intense training on all of our DPS products you currently have, as well as the ones that you will need in the future.
The T/Mon SLIM will keep your technicians apprised of any threats to the health of your network with automatic alarm notification to their pager, e-mail and SMS messaging device. Technicians from the field they can, in turn, remotely access and acknowledge alarms via Web browser or T/Windows remote access software. Local visibility of alarms can be also viewed from the front panel LCD and 8 bicolor LED's. In addition, The SLIM allows users to maintain alarm history logs and analyze past alarms to identify network weak spots and anticipate future problems. Use Derived Alarms to track complex network problems by correlating different alarm events. You can also use derived controls to program flexible automatic corrections for network problems.
We have included our annual Maintenance Agreement, also called the T/Mon Gold. The T/Mon Gold will entitle you to the latest version of T/Mon software. It also will provide you with any upgrades that come out in the next 12 months from the reactivation date. Software updates are only 1 of the 7 major benefits of the gold membership.