Keypad Entry Units
No Building Access System is complete without a way to monitor entry-points. A traditional keyed analog door offers the most basic of security measures. From a security standpoint, this may work fine. Until someone with ill intentions comes along and happens to have the tools available to pick, bump, or force the lock open.
While not as blatantly malicious, in some events, security measures can be compromised that could require a rekeying of all locks in a building. Some of these situations are rather common and unexpected, but are still easy to avoid with a little planning and the proper equipment.
Some examples of situations that could warrant a costly visit from a locksmith:
Losing a key
Unauthorized copies being made
Physical damage
Separation of key-holder and company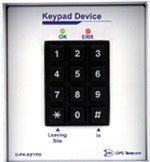 Imagine being able to give every employee a unique password, similar to a PIN used with an ATM card, that allows them to unlock a door without the need for an analog key.
With the incorporation of a keypad into a building access system, you are able to do just that. Depending on the situation, you can also monitor which code (who) was used at what door, what time and how many attempts it took. This is especially helpful in monitoring building security, since analog keys are unable to perform any of these tasks.
Most keypad entry systems are designed to operate on a time frame and permissions basis. If your new trainee is not allowed in the building outside hours, or even in certain parts of a building, a quick update to the main operating computer will tell the system when and where an individual code can be used. If for any reason a particular code becomes compromised through espionage, or even a normal situation like the termination of an employee, their code can be deactivated in a matter of seconds.
For an effective monitoring solution, a keypad should be built to withstand extreme weather conditions, environmental exposure, and damage. As a standard, a keypad should not allow a door to be unlocked through malicious efforts either. Some keypad entry configurations also include the use of a proximity card reader as an added layer of security.
If you feel that using traditional locking mechanisms may be compromising your security and possibly even your profits (locksmiths can get expensive!), then maybe it is time to explore the options set forth by some of the leaders in the site monitoring industry.
---