Door access control is a matter of who, where, and when. An access control system determines who is allowed to enter or exit, where they are allowed to exit or enter, and when they are allowed to enter or exit.
Mechanical Locks and Keys are Not Enough
Door access control was partially done through keys and locks. When a door is locked only someone with a key can enter through the door depending on how the lock is set up. Mechanical locks and keys do not limit the key holder to specific times or dates.
Mechanical locks and keys do not provide records of the key used on any specific door and the keys can be easily copied or transferred to an unauthorized person. When a mechanical key is lost or the key holder is no longer authorized to use the protected area, the locks must be re-keyed.
Instead of Mechanical Locks and Keys
Electronic door access control uses computers to solve the limitations of mechanical locks and keys. A wide range of methods can be used to replace mechanical keys.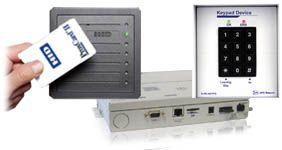 Some kind of remote telemetry unit at each door location grants access based on the credential presented such as; password entered on a keypad, a swipe card used with a proximity sensor, or even biometrics. The decision can be made locally by the door unit, remotely by a central management system or cooperatively by sharing login profiles and access requests.
When access is granted, the door is unlocked for a set time and the event is logged. When access is refused, the door remains locked and the attempted access is recorded. The system will also monitor the door and alarm if the door is forced open or held open too long after being unlocked.
Do you Want to Know How to Deploy an Advanced Building Access System?
In today's environment, it's more important than ever to deploy a building access system with state-of-the-art security features.
Centralized management, user-level permissions, detailed logging & advanced notifications are all tools that will combat theft and vandalism.
A high-quality building access system will enhance the security of your sites. We've put together a guide that will show you how to ensure the safety of your revenue-generating equipment.


Download the free How to Deploy an Advanced Building Access System White Paper Here.