If you've got a network monitoring problem, DPS Telecom can help. We build customized network reliability solutions made to your specifications, backed by the best client support in the industry and a no-risk, money-back guarantee.
Network Reliability Solutions Custom Engineered to Your Specifications.
DPS Telecom was founded by engineers to meet the needs of engineers and technical managers who implement network alarm management systems in enterprise networks. Our company is built on an engineering philosophy of rapid, customized design of perfect fit solutions built to your exact specifications.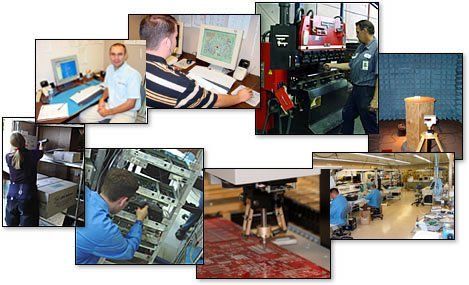 Our successful strategy of vertical integration allows us to be flexible to your needs. From start to finish we work with you to design and manufacture a perfect fit alarm monitoring solution.
Custom Design - Proven Tech.
DPS custom solutions are built on tech that has proved itself in thousands of successful implementations. We build custom products through modular hardware and software, structured development and systematic testing, including NEBS compliance testing in our own lab. When major long-distance carriers, RBOCs, ILECs/CLECs, utilities, transportation companies, and Fortune 500 companies need custom network reliability solutions, they turn to DPS Telecom.
Every Product is Built to Order Fast.
Every network monitoring product we sell is built to order, with the specs, alarm capacity, and features that best meet your needs. Our complete automated manufacturing facility ensures fast delivery for even the tightest deployment schedule. From design concept to final manufacture, we control every aspect of production in-house. New to DPS and monitoring technology? The 3 things you must know.
No NRE Fees - Innovation At No Extra Charge.
You don't have to pay extra to get a custom monitoring solution built to your specs. Not everyone has an "off-the-shelf" problem. 80% of most client's needs are covered with products that we've already deployed in networks around the world, but we specialize in developing that last 20% to make it a perfect fit. If you require custom engineering, as long as you order a minimum number of units, we don't charge NRE fees.
You Come First.
At DPS Telecom, we see ourselves as your partner in securing your network. We will never leave you with a monitoring problem unsolved. We will always put your needs first. We back that philosophy up with 24-hour tech support - which our clients rate the best in the industry - installation assistance, off-site databasing, Factory Training, and maintenance agreements.
Money-Back Guarantee on All DPS Telecom Products.
Every DPS Telecom product is backed by our 30-Day, No-Risk, Money-Back Guarantee: "If you buy our equipment and are not satisfied for any reason during the first 30 days, simply return it for a full refund."
The DPS Team.
DPS Telecom's team consists of
the industry's best tech support team
, an expert
sales team
who will help you find your perfect fit solution, a
production team
made up of engineers that can customize equipment to perfectly fit your needs and
Bob Berry - DPS Telecom Founder & CEO
. Additionally, DPS is partnered with some great companies to improve your user experience. Want to meet the team? See them at the
next trade show
.